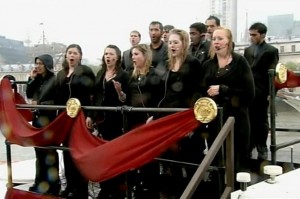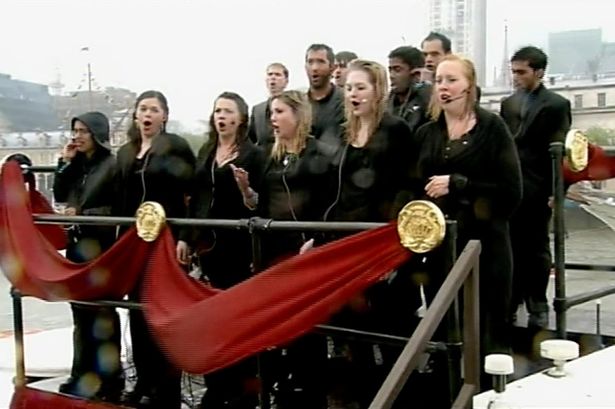 The Queen's Diamond Jubilee is upon us (in fact it has been for the last four days), talk about making the most of an occasion! Despite the enthusiasm of the British public I do wonder if it's a case of 'God Save the Queen' or 'Thank God for an extra Bank Holiday'. Of course in Ireland (where I am currently situated) everyone is back to work today, no watching the Queen on telly, no sandwiches in the rain, no eccentric Union Jack themed clothing. It's all very quiet.
It seems the most exciting part of the celebrations was last night. I confess I missed most of it but did happen to change channels just as Grace Jones was hula hooping her way through a number. It was like Britain's Got Talent crossed with James Bond, completely crazy and very Grace. It's funny how these big occasions bring out all the faded stars of yesteryear: Tom Jones, Paul McCartney, Cliff Richard. Either the Queen has no taste or no say in the line up. I bet William and Harry were fidgeting in their seats.
I did catch most of the Flotilla footage on Sunday. It was rainy outside and I had nothing better to do than watch other people being miserable in the rain. Through the constant downpour I managed to observe the following: there were a lot of boats, there was a very wet choir, the Duchess of Cambridge was Miss Scarlet with the matching umbrella in the rain . . .
It seems the Duchess was the only member of the Royal Family who took note of the weather forecast. Why else would she have chosen an outfit that stood out like Rudolph's nose? Luckily for the Queen the camera zoomed in so that the subtle sparkles on her pale outfit could be admired. You can't deny that for an older lady, she sure knows how to work that shimmer . . .
I can't help thinking back to this time ten years ago when my now husband and I graced a street party for the Golden Jubilee with our presence. It was Fancy Dress and having adopted the roles of Anthony and Cleopatra we were in dire need of some alcoholic assistance before joining our neighbours. Luckily, I had smuggled a unique Tesco blend of Pina Colada past my parents.
I had never been to a street party before and haven't been to one since. I have to say there's nothing quite like it. There's something about being outside, surrounded by music and neighbours that is very liberating and unifying.
And so on the last day of the Queen's Diamond Jubilee celebrations we are brought back down to earth with a solemn service at St Pauls. Apparently there will be lunch at Westminster Hall afterwards. All these events have made me feel a little wistful and nostalgic. I'm no Royal enthusiast but to be fair to the Queen, 60 years on the throne is a remarkable achievement. And if it wasn't for her I would never have partied on the street! I must arrange to be in the UK for the Platinum . . .
Picture sourced at: http://bit.ly/KZSAoe