If this year's birthday celebrations have taught me anything, it's the true value of a hearty dinner.  Hubs and I and headed to Clonmel in rather defiant spirits.  I was battling a sore throat and bad chest, but had powered up on Lemsip and was determined to enjoy the day.  He, (as the driver) was slightly deterred by the constant downpour of rain, that stayed in force for the whole day, but this was a rare Saturday off work for him, and he too, was eager to make the most of it.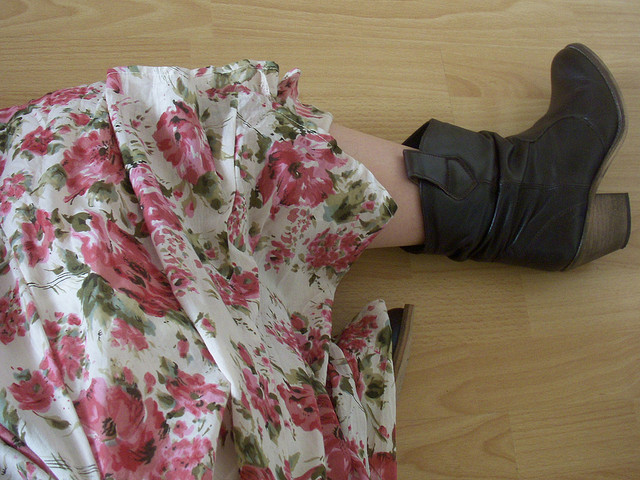 Having parked up, we watched the rain slide down the windows and plotted our route to some warming food.  'Mr Bumbles' restaurant was close by – we had eaten there before and they do tend to offer something a bit special, with 2 or 3 course options available, accompanied by homemade bread, tea / coffee.  So, the choice was made, and soon, we were happily tucking in to starters of Taco Potato Skins (for Hubs) and Leek and Potato Soup (for me).
For the main course, we both chose Bacon and Cabbage.  It felt like the only choice, the comforting, heart-and-soul-warming choice and it certainly filled us with sustenance that would last for the day . . . Of course, that didn't stop us from ordering Malteser Mcflurries an hour later . . . Well, you know, the rain was incessant and McDonald's was just there. These things happen.  It was my birthday.
The other story of the day was me finally finding a pair of winter boots.  This is a saga that has been dragging on for about six weeks, so believe me, it's significant!  Luckily, I discovered a shop that had a wide selection of boots and settled down to try on almost all of them, until I found a pair that fitted.  I've heard that your feet can go up a size in pregnancy, mine seem to have gone down a half size, which is why it took me so long to make a decision.
Meanwhile, I had a lovely chat with the shop-assistant, who had spent a memorable holiday in Wales, and particularly loved her stay in my hometown of Swansea!  We discussed the charm of shopping in Mumbles and she complimented me on my bump.  A lot of people have called it 'neat'.  I suppose being tall helps, and I haven't experienced any swelling.  I'm really looking forward to meeting baby, at this stage.  He / she, seems to have developed a love of kick-boxing in the womb.  Now, I'm all for exercise in the outside world, but not when it's hurting my stomach.  So let's hope baby will soon be here, to join me and Hubs in the Christmas build up.  I've already bought my cards!