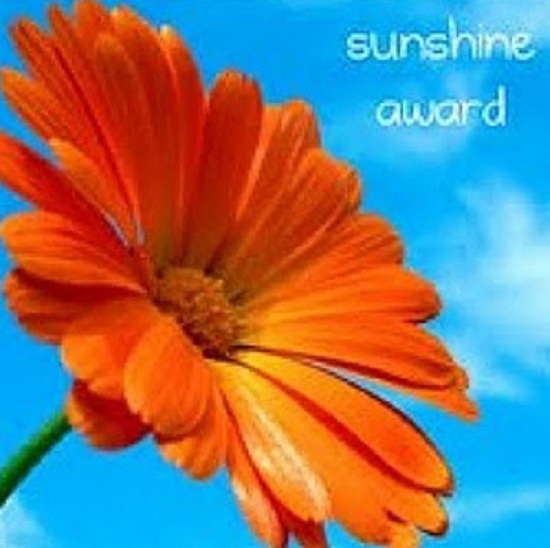 All Smiles here: The Sunshine Award for Blogging.
I'm feeling extra sunny today, having been awarded the Sunshine Award for Blogging by fellow writer: AK Andrew.  Big thanks to AK, who writes poetry and fiction and is the author of the novel: Radio Echo. Find out more here.
The Sunshine Award is an award given by bloggers to other bloggers. The recipients of the Sunshine Award are: "Bloggers who positively and creatively inspire others in the blogosphere."
The rules of the award are as follows:  Thank the person who gave you the award and link back to them. Answer questions about yourself. Select 10 of your favorite bloggers, link their blogs to your post and let them know they have been awarded the Sunshine Award!"
Me being me, I've bent the rules slightly and have chosen 8 bloggers.  All these writers are genuinely inspiring so do check out their blogs!  Meanwhile, I have some questions to answer.
What is your Favourite Time of Year?
It used to be Winter because I got so excited about my birthday and Christmas! Now, I'm a little older I really love the colours and anticipation associated with Autumn.  I also appreciate Spring in all its fragrant beauty and who can resist baby animals? 😉  Hmmm, I just want all the seasons don't I?  But not Summer, it's too long and I never know what to do with myself!
What is your Favourite Festive Movie?
It has to be 'The Santa Clause'.  The central idea is ingenious, Tim Allen's performance is classic and it's laughter all the way.  A great family film.
What is your Passion?
I've been writing since I was 7 years old and it's the one pursuit  I have always taken seriously and always come back to.  I also love singing but I treat it more as a hobby. Writing is central to my life.
What is your Favourite Colour?
I'm pretty sure I don't even have to answer this question.  People, I've only known for a few minutes come up to me and say 'you really like purple, don't you?'  And yes, I have to confess, I wear a lot of purple clothing but I also like pink, blue, black and red and wear those colours too.  Why is it, people only notice the purple?  I have been told it suits me  . . .
What is your Favourite Flower?
Irises, (yes, the purple variety)!  They are a truly beautiful, exquisite flower.  We always had them in the garden at home and they made up most of my bridal bouquet, along with calla lilies.  They also remind me of my Godmother because her name was Iris.
What is your Favourite Non-alcoholic Beverage?
I love milkshakes!  Up until now, my favourite flavour was lime but I recently sampled the Indian equivalent: the 'Mango Lassi'.  It's quite a taste sensation, just the right level of sweet, cool and mellow.
What is your Favourite Physical Activity?
It's kind of a secret (not for much longer, obviously) but I really enjoy dancing.  If I'm home alone, I'll often stick a bit of music on, move my feet and throw my arms around!  I did ballet when I was a child and I love the elegance of it.  I practice the moves I can remember and probably have them all wrong!
What has been your Favourite Holiday?
My honeymoon.  We didn't have much left in the budget for a far flung location so we decided to explore Ireland a little further.  We visited the romantic 'Meeting of the Waters', the stunningly beautiful Glendalough, the impressive stately home: Powerscourt and the historic Newgrange.  Castle Leslie was our luxurious base, offering an 8 course banquet and a very relaxing atmosphere.  The weather couldn't have been better.  I had the sunburn to prove it!
All Smiles Here: The Sunshine Award for Blogging.