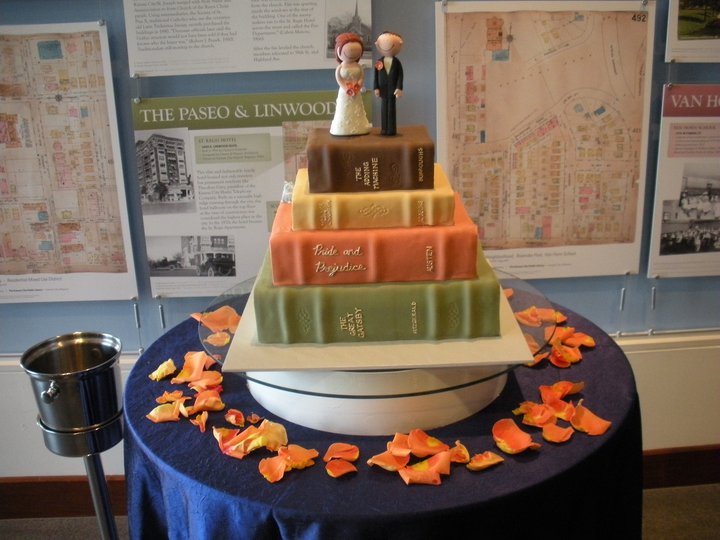 I'm just back from a trip home to Wales where I attended the wedding of a close friend, took a day-trip to Hay-on-Wye and experienced 'spectating gold' by watching the Olympic Opening Ceremony!  Excuse me while I pause to draw breath, you see trips to Wales are always incredibly busy.  I don't get home very often so when I do my holiday timetable fills up quickly so that I'm running from one 'catch up' session to another.
That's why my friend's wedding was so enjoyable because I got to see many of my good friends all at once.  Among them were people I hadn't seen in a couple of years but it didn't matter as any initial awkwardness melted away and we began to chat as though we had never been apart.  Discussions included the sincerity of Tom Selleck's moustache,  my crazy mid-forties dream sequence from the night before and the enticing qualities of profiteroles.
My friend, the bride looked radiant and it was a very emotional experience to watch her get married, eat cake and make merry.  Her husband's speech hit just the right key, making everybody laugh and say 'aaah' in equal measure.  Later, there was a fabulous Karaoke session, reminding me of what good singers my friends are (well, they are Welsh)!  Later still,there were some classic feelgood tunes leading me and hubs to strut our stuff on the dance floor.  I'm not sure we quite had the 'moves like Jagger' but we moved, which is unusual for us, being quite lazy, non-showboating people.
Saying that, we did plenty of walking on our holiday.  Mainly around shops, but walking, all the same.  Our trip to Hay-on-Wye was really special as it's a town that's very dear to us.  We had our first romantic break there around nine years ago and we've continued to  revisit, time and again.  We're both book lovers and love nothing better than to stroll around the characterful town, diving into bookshops, browsing, picking up gems and comparing our finds at the end of the day.  Hay is also great for unusual accessories including jewellery and this time I was delighted to discover a turquoise ring and matching pendant.
After all that exercise (shopping really burns the calories, you know) we settled down at home to watch the opening ceremony for London 2012.  Well, it was cetainly an eye opener!  Who knew the Queen had such daring?  Who would have thought Mr Bean would triumph in an epic, sandy foot race?  And who could have imagined such a giant baby?  Just a mercy it never emitted a 'waaah,'  we would have heard it from London 😉 . The whole sequence was very spectacular though and had me dabbing at my eyes once more.  I don't know what it is about 'Chariots of Fire' but it gives me goosebumps every time and it's such a simple melody.  Maybe I should take up piano again, although I'll try not to sneeze!
Picture sourced at: http://mymrandmrs.com
One Wedding, One Day-Trip, One Olympic Cermony.