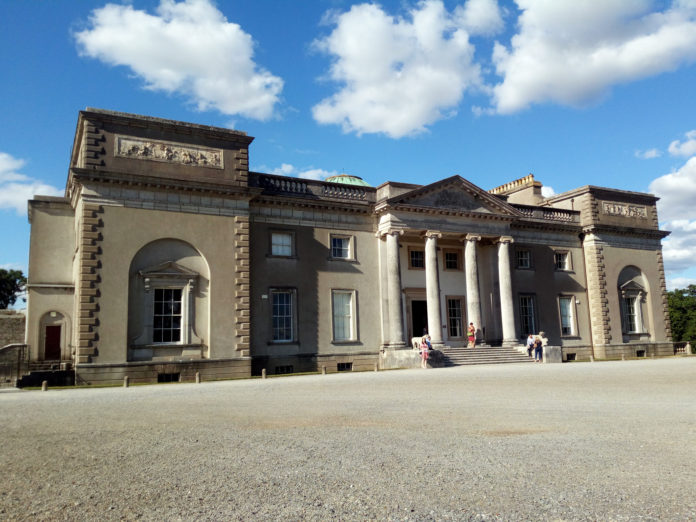 The Heart of Summer
The Heart of Summer is a series of three poetry events, brought to the public by Poetry Ireland, in association with The Office of Public Works and presented by the RTE Poetry Programme's Olivia O'Leary.
The first event took place at the neo-classical mansion, Emo Court in County Laois, on July 7th, and  I was lucky enough to be there!  Kerry Hardie and Pat Boran were the featured poets, with Kerry starting the proceedings.  Olivia O'Leary highlighted the fact that Kerry's poetry often focuses on the presence of God in Nature.  Kerry agreed, revealing that being in church in order to be close to God had never made sense to her.
One of Kerry's poems about speaking on the telephone reached out and spoke to me.  Kerry told us her father was never comfortable talking in this way and would use her mother as a go-between to relay messages.
'The Satin Dress' was another poem that stood out, as Kerry brought memories of her youth into the room.  A dress, hanging on the back of a door, served as a powerful representation of another heady lifetime.
Pat Boran's poetry was alive with humour and intense scrutinisation of human relationships.   It was so moving to listen to him read 'Let's Die Here', an uplifting poem, written about his young sons.  In it, Pat describes lying on the grass with them, contemplating clouds, feeling everything to be possible.
David Power provided magical musical interludes, playing both uilleann pipes and tin whistle.  The final melody seemed to work its way into my soul.
Afterwards, my husband and I stood on the steps at the front of the building and took photos of our beautiful surroundings.  Emo Court was majestic in the blinding sunlight, as if it had been made for this illumination.  The building was designed by noted architect James Gandon, in 1790, for the Earls of Portarlington.
Before heading home, I bought Kerry Hardie's 'The Zebra Stood in the Night'.  There's something special about owning a poetry book, as if you might borrow some of its unearthly qualities, as if some of the words might live with you forever.  And they just might.
Photo by George Moore.