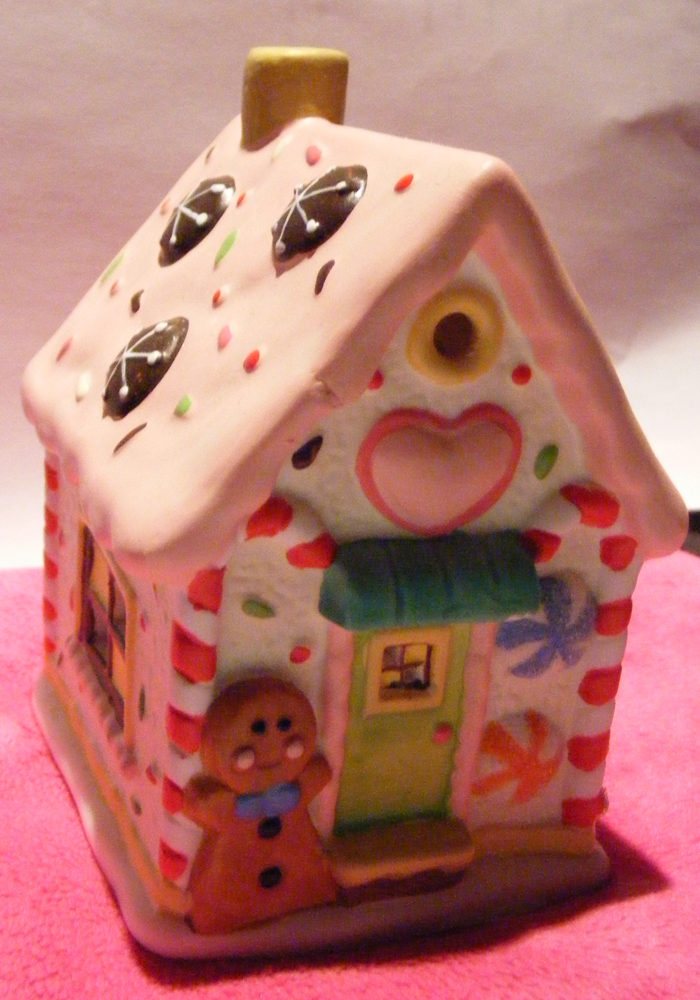 The Gingerbread House and Scotch Egg Story.
You know you've had a successful shopping trip when you return home with a Gingerbread house and a packet of Scotch Eggs.  Yes, I'm easily pleased, not for me the finery and luxury of a silk blouse or the exquisite tailoring of an expensive wrap dress.  No, just let me wander the aisles of 'Woodies' and 'Homebase' freely, stopping to gawp at a Winter Carousel, a glowing Snowy Village or a train packed with presents.
I've said it before and I'll say it again: I love Christmas!  And one of these days when I have the spare cash to squander I will invest in an entire model community of quaint houses, chapels and shops, complete with carollers, captured mid-song.  Everything will glisten delightfully with scattered snow and lights will add the final touch . . . Lilliput Lane come to life.
For now though, I must content myself with a modest china Gingerbread house which has yummy looking sweets on it (not edible!), plus a gingerbread man, plus a Christmas tree.  It is cuteness personified and now lives on top of my chest of drawers.  Excuse me, while I take a moment to admire it.  Yup, still gorgeous, I have taste!
And what of the Scotch eggs?  Well, they haven't been eaten yet as I was good and cooked the mince I had left in the fridge.  I can promise you they will be savoured though and possibly introduced to a healthy portion of chips.  My husband spotted them as we scooted around Tesco, trying not to buy too much as we hadn't picked up a basket and failing miserably.
According to hubs, Scotch Eggs are a very English thing.  A quick spot of Internet Research has confirmed that Scotch Eggs originated in London, at Fortnum and Masons.  They were a popular carriage snack as they helped to sustain energy levels on a long journey.  No wonder Hubs and I are so fond of them!  We're often travelling to Wales and back.  Next time, I know just what to put in the rucksack!
Meanwhile, I'm going to work out whether a tea light will fit in my new house, settle down with my notepad and wait for inspiration to come!  My latest writing project is a series of interlinked stories, set in an small Irish town.  I'm loving the links between all the characters and the detail of their individual back stories.  At last, I seem to have found a way to write a lengthy piece of work without tearing my hair out!
K. S. Moore has just published her first collection of short stories as an ebook, available from Amazon for just £1.99!  'Heart Strings' comprises of ten stories, united by their strong, emotional content: the sweet, the magical the romantic and the ghostly . . . Check it out here.
The Gingerbread House and Scotch Egg Story.