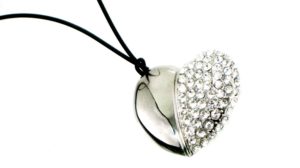 A flash drive masquerading as a silver glittery locket – my find of the week.  It's nerdy, yet pretty, back up and bling up.  And if you're not into shiny tat but still want to preserve your files there's a choice!  For the healthy eaters: a watermelon slice, for the animal lovers: a rabbit, for the avaricious: a gold bar, for the thirsty: a bottle opener.
No, I haven't started a sideline in promotions . . . this quirky range just caught my eye the other day whilst I was engaging in some retail therapy.  It must have been a day for the unusual as driving home I witnessed a 'dance off' in the back of the car ahead.  I couldn't help imagining the dialogue:
'Look how high my elbow can go . . .'
'Witness my stationary shimmy!'
'But see how I throw my hands up in the air, ow!' (hits car roof)
It was one of those classic moments when you are so glad you left the house to be entertained by the absurdities of life.  And talking of absurdity I bought a pair of waterproof trousers the other day.  I haven't tried them on yet but I'm sure I'm not going to be winning any fashion awards as I trudge up the hill.  Hubs has informed me that instead of getting soaked by rain I will now get drowned in perspiration.  Obviously hasn't heard the saying: ladies merely glow.  Still, I'm willing to give them a try.  They were a bargain and will mean I have no excuse to avoid walking.
To be honest, I don't really want an excuse.  Since moving to the countryside I've become a bit of a walkaholic.  Our house is in a bit of a lonely spot so it's great to get out and feel the fresh air on my face (in Winter my face is the only bit showing!) Another reason to go outside is the wildlife.  The swallows came back to us at the weekend and we saw a rabbit in the long grass.  Of course it's the time of year for baby animals so I'm constantly pointing at lambs, calves and foals shouting 'aaaaah!'  Never grown up really have I?  But if that means a continuing appreciation of nature then it can't be bad.
In writing news I had a brainwave the other day and decided to convert one of my unpublished stories into a script.  I've never thought I would be any good as a script writer as my writing tends to be quite descriptive but hey, it's Spring and I'm in the mood for something new 🙂
Picture sourced at http://www.hotcraze.co.uk/buy/dazzle-usb-silver-heart-memory-flash-drive-with-high-quality-crystals-4gb_5.htm