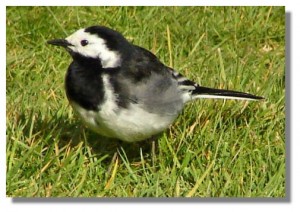 This year Father's Day was bitter sweet. I didn't get to spend the day with my Dad but I did come face to face with a wagtail who gave me the wisdom of wildlife. Now, you may wonder how a small bird managed to impart such knowledge and advice. The truth is he didn't have to try. He just sat there, on the roof of my car, his little face pure and white, his black stripes dashing and his tail defiantly upbeat, bob-bobbing.
His mere presence lightened my heart, even as I thought of my Dad, all the way over in Swansea, South Wales. The wagtail made me remember the positives: that my parents were spending the day with my brother and his family, that I would speak to Dad on the phone later, that I still had a Dad to wish Happy Father's Day to.
This positive vibe continued as I sat down in a pub to watch the much anticipated hurling clash between Waterford and Clare. Hubs and I cheered the team on wildly, replacing the natural high of actually being at the match with the false high of cider. Hubs and I are modest drinkers these days so often find ourselves exceeding our limit (like experimental teenagers) then rueing the experience and complaining of 'woozy heads' (like geriatic lightweights).
So although we were delighted with a win for Waterford we were not so pleased with the evening hangovers which came crashing in a couple of hours later. As usual we toyed with the idea of giving up alcohol but came to the conclusion that the odd tipple is an essential aid to social interaction. We will just have to be wiser next time, pace ourselves, add more ice, perhaps even drink less . . . Yes, it really has come to these shameful precautions. But Mum, in case you're reading I'm afraid I will never be a shandy drinker!
Picture sourced at: http://bit.ly/PqLnQ1
Please take a moment to enjoy this poem 'Wagtail' from my collection, 'A Flower Girl's Tears.'