Mahon Falls is a place I go to find peace.  It is characterised by mountains, stubborn sheep, with horns like celtic knots, rushes, greenery, gushing water and pure air.  Well, the air is usually pure.  On this occasion a group of smokers gathered in front of our just parked car, obscuring the view, lending smoke to the fresh and clear atmosphere.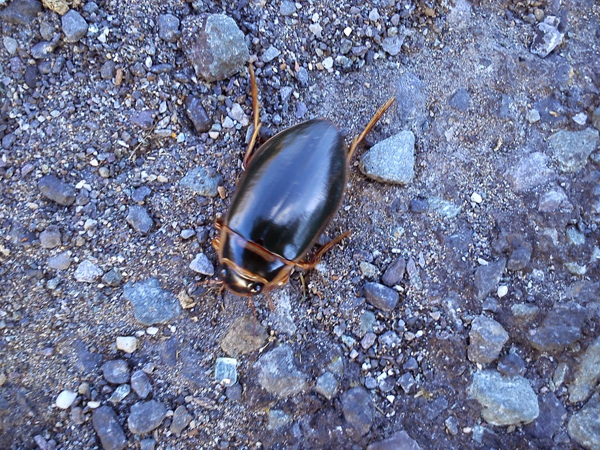 We wound up the windows and waited for them to move on.  They didn't pause to explore the surroundings, just finished their cigarettes, piled back into the car and drove off.  To us, this seemed like a waste of a journey.  On a wet day, we might stay in the car and admire the view, but we take our time about it.  I suppose we should have expected a different crowd at this time of the year.  It's still summer, (just about) and people are obviously keen to make the most of the holidays before we face into autumn.
After the smoke had cleared, we ventured out of the car for a walk and were delighted to spot an unusually large beetle.  He flew in like a raven (ok, a strangely small variety of raven, but still,) he caught our attention and Hubs made use of his camera phone to capture the image shown above.
When I was looking at the beetle, the light seemed to bring out hints of emerald beneath the ebony sheen of his body, but the photo has not captured the effect 🙁 .  Hopefully, readers can appreciate his size, although an object to indicate scale might have added to the picture . . . Suffice to say, this was one mega specimen of beetle!  I've been looking through some Internet sites and images in an attempt to identify him.  The closest match I have found is the 'predacious diving beetle'.  As I'm not an expert, this assessment may be completely wrong so feel free to correct me!
Taking a fresh look at the picture, the neatness of the body has captured my imagination and reminds me of a shiny black briefcase that might be carried by a business person.  I wonder if I could make a poem or story out of the comparison?  Hmm, excuse me while I fetch a notepad and pen.