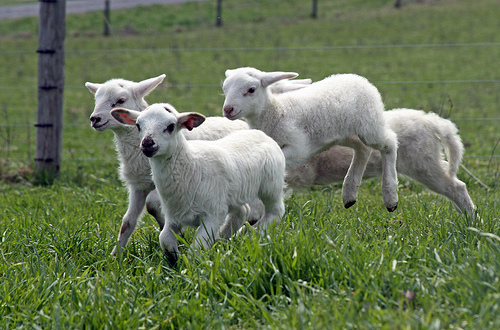 Did you know that lambs can stampede? Neither did I until I went for a nature walk the other day and found myself observing the kind of mad antics usually displayed by a group of over excited children. And before you ask, no I didn't run away. There was a fence between them and me, besides everybody knows that lambs are sweet, mild mannered creatures, content to frolic in the fields peacefully. At least, they were . . .
It seems that lambs have evolved, become more hyper and are now prone to sudden outbursts of extreme frivolity. Of course, there was a gang leader and with a jolt of his head and a kick of his legs he was in the air, only to hit the ground running. Suddenly, two of his compatriots were at his shoulder, bounding from one end of the field to the other. Then there were four, seven, ten . . . The group continued to grow until nearly every lamb in the field was gambling up and down the slightly sloping greenery.
As I watched this crazy, woolly, rolling mass I caught the looks of disdain cast by the Mother Sheep. I could almost distinguish the shake of their heads, the tut on their lips, the 'whose son started that carry on?' Who says sheep have no inner dialogue? It was one of those extraordinary events occasionally offered by the animal world and reminded me just why I love living in the countryside. Most of all, it summed up all that is young, joyful and playful about Spring lambs.
I enjoyed my nature walk so much that even though yesterday was punctuated with torrential rain and crashing thunder I ventured out again. You may remember that I recently purchased a pair of waterproof trousers. Yesterday they made their debut to a fanfare of laughter from my husband. Undeterred, I waddled down the road in sheer defiance and who was laughing when I returned relatively dry whilst hubs' jeans were soaked through?
At least this weather doesn't distract me when I'm sitting at my desk, trying to write.  I've managed to focus on a definite writing project for the summer. I'm going to write two new short stories to add to those I've already written and then publish them as an e book collection. I've also put a lesson plan together for a workshop on creating short stories and just need to sort out a venue to teach it from. So the rain is good for something: productivity. Doesn't mean I would turn down the opportunity to go for a nature walk in the sun though 😉 .
Picture sourced at: http://www.sheep101.info/lambing2.html