I wanted to go to the sea, realised I hadn't been in almost a year.  Why?  I love the sea.  I grew up with it.  I think it was something to do with being pregnant.  In the first trimester, I felt sick and scared about what was going to happen to my body.  In the second, I had a lot of pain when walking.  In the third, I had cold after cold and started to feel sick all over again . . .  A beautiful picture of pregnancy, I know!  Saying that, I did get out and about as much as I could.  I remember drinking a lot of tea and eating cake with my husband.  I joined a mum-to-be group and also made a trip over to see my family in Wales, so I couldn't have been that bad.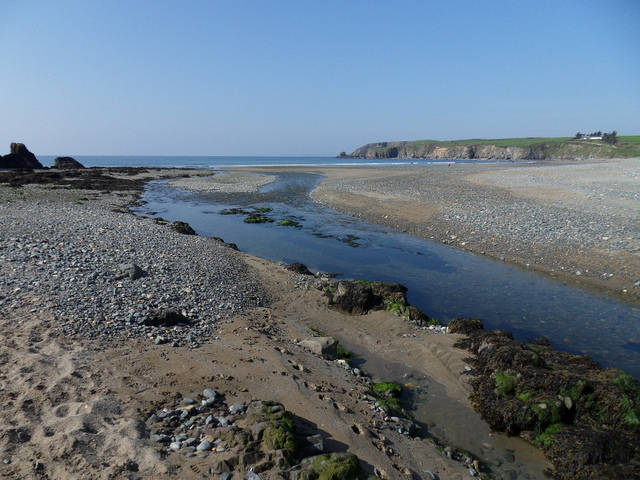 Anyway, the sea . . . It's been sadly neglected.  So, over the bank holiday weekend, my husband and I took our baby daughter to Bunmahon.  We studied seaweed and gazed down into swirling water.  We walked over paving stones, inscribed with local information, until our daughter cried and got taken out of her buggy for cuddles with Mummy and Daddy.  The sun was strong and we worried about her delicate baby skin.  Afterwards we ate ice cream and talked about the future, planning a holiday for the three of us.
Our baby has begun to make loud, joyful noises, which punctuate every outing and make us laugh.  It's wonderful to see and hear her, delighted by the power of her own voice.  I look forward to her meeting further milestones as we continue to introduce her to the natural world.
She's currently still going back for a sleep in the morning, which gives me a bit of writing time in the day.  I've mainly been writing micropoems, some of which may fit together to create longer pieces of work.  I'll keep you posted.  Meanwhile, here's a taster:
A jagged blue length of a wave
rolls its song over my ears.
Warm bathes my skin,
salt sits on my tongue,
my soul pours.
K. S. Moore.
Photo credit: chill / Foter / CC BY-NC-ND