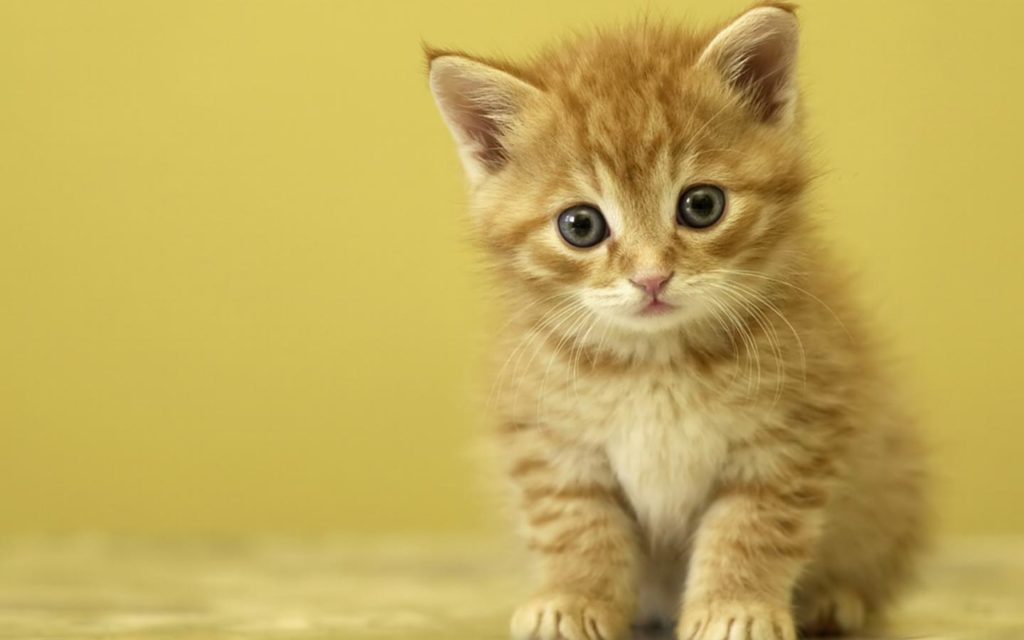 The Ginger Kitten and Queen of the Doorstep.
I saw the sweetest little ginger kitten the other day.  She was snuggled up to her Mum on the mat outside my in-laws' house.  As soon as my husband and I approached, she ran underneath a nearby stool, peeking from her new safe spot and mewing piteously.  Her Mother only moved aside slightly.  Obviously, age brings experience and a Queenly confidence!  We aren't sure if the cats are strays or belonging to a neighbour.  Either way, they seem to be making themselves at home.
They are a curious twosome, the mother jet black, apart from a mottled ginger pattern on her back whereas the little one is ginger and white, without a hint of darkness.  Personally, I'm enjoying having some creature company as I make the chilly trek from car door to front door, but then, I don't have to feed them.  The trouble is, once you make a commitment to feeding visiting animals, there is no way back and your heart is in danger if anything happens to them.
I've been thinking back to a book I read as a child: 'King of the Vagabonds' by Colin Dann.  Dann was also responsible for 'The Animals of Farthing Wood', which was made into a popular television show.   Sadly, 'King of the Vagabonds', my favourite title by Dann seems to have gone out of print.  I remember looking to purchase it for my niece some years ago and having to order it in at my local Waterstones.  Since then, the book must have slipped further from the public grasp.  This is a real shame because I remember the story to be incredibly gripping and thrilling.
Sammy is a domestic kitten with an eye on the wild, forbidden territory beyond his home, where a dangerous breed of cats dwell and are known as 'The Vagabonds'.  At this point, Sammy is unaware that his father is the gang leader but everything is about to change as his curiosity and natural daring lead him into a dramatic confrontation.  Ultimately, Sammy must choose between a cosy life where he is cared for and a dangerous life where he must make his own luck.
I wonder if I was drawn to the book through an earlier love of Disney's 'The Aristocats'?  Thomas O'Malley, the Alley Cat is the vagabond in that story.  He struts in to help the immaculate Duchess and her brood of kittens as they find themselves cast out onto the streets.  I love his rough-hewn wit and charm and don't get me started on 'Everybody wants to be a Cat' . . .  It has to be the best Disney song ever!  If you haven't heard it, go listen now: http://bit.ly/zeUjuc . I defy you not to start tapping your foot. 😉
But to return to the moggies of the moment . . . There's something about animals, particularly ones needing our help, that evoke protective feelings, not to mention the odd, spontaneous 'aaaaah'.  You'd have to be very stony-hearted not to encourage their presence. So I will go on baby-talking to the kitten and I'm not going to shush the mother cat away.  If they stay around long enough, I may even name them. For now though, they remain: The Ginger Kitten and Queen of the Doorstep.
K. S. Moore has just published her first collection of short stories as an ebook, available from Amazon for just £1.99!  'Heart Strings' comprises of ten stories, united by their strong, emotional content: the sweet, the magical the romantic and the ghostly . . . Check it out here.
Picture sourced at: http://bit.ly/TtJuFs
The Ginger Kitten and Queen of the Doorstep.