All around, the coral mountains, crumbling stone walls, lakes – a shade that borrows from sea, that could belong to somebody's eyes . . . These were my impressions of County Galway, as we journeyed towards Clifden, a town known for its extraordinary position, nestled between the foothills of the Twelve Bens and the magnificent Atlantic Ocean. The day was sleepy with heat, an atmosphere reflected in this island, furnished with sloping trees.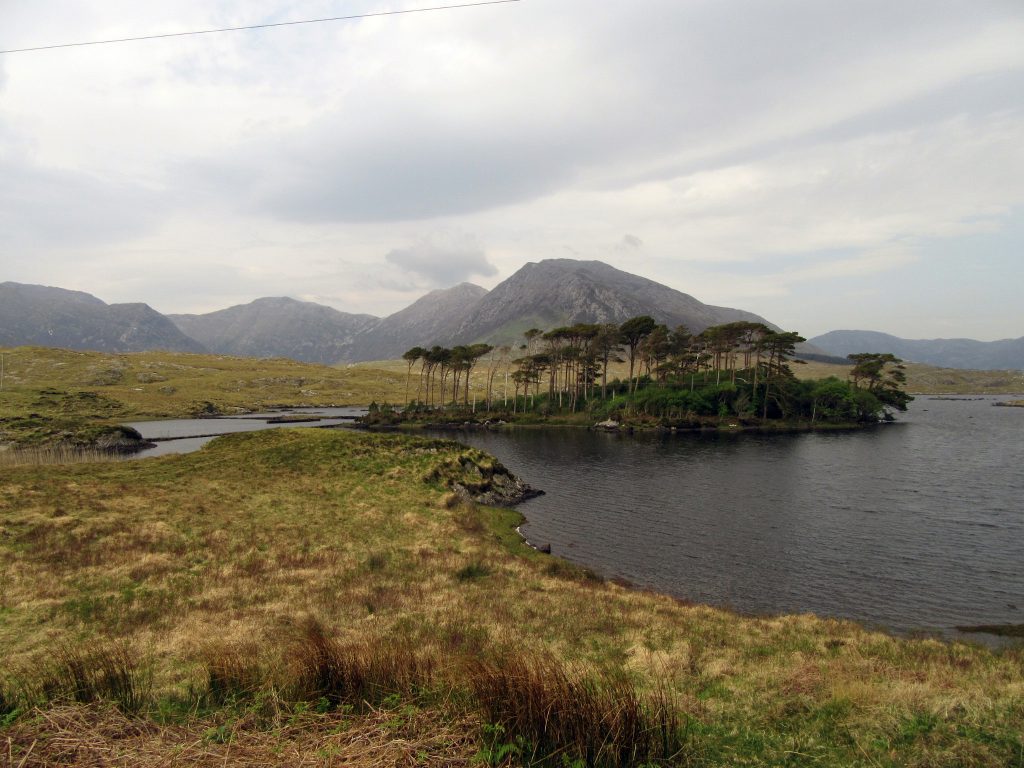 When we finally arrived in Clifden, we found our eyes battling the sun as we explored the narrow streets and cluster of shops. It was a relief to retire to our cool hotel room, for a glance at the Eurovision Song Contest and a long drink of water!
We had planned to visit Kylemore Abbey in the morning, but our daughter was a bit out of sorts with the heat and new location, so we decided to press on to the next hotel, in Leenane, before the day warmed up too much.  As Kylemore Abbey lay on the route, we stopped to take this picture.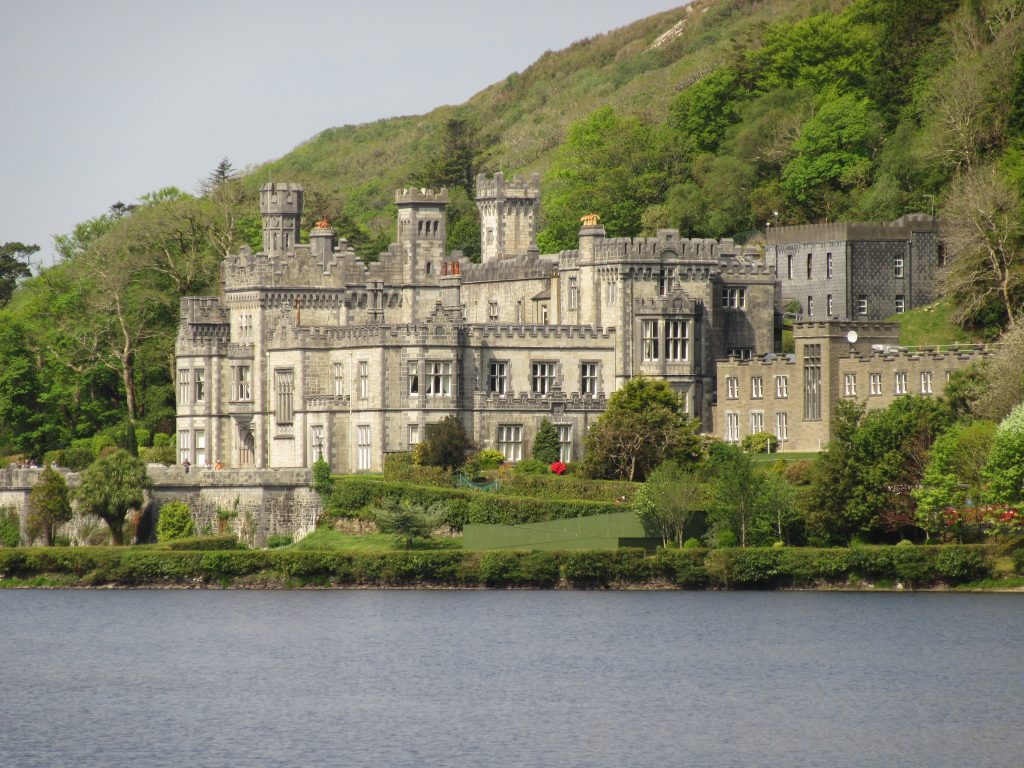 I was a little disappointed not to visit the abbey. I'm a glutton for romantic stories, so when I heard that Mitchell Henry had the castle built especially for his wife, Margaret, in 1867, I was very intrigued. From the outside, the abbey certainly impresses itself on the landscape with a demanding haughtiness. Next time we are in Connemara, we will definitely have to visit.
On reaching Leenane, we were happy with our decision to head straight there. The place seemed to hold a glorious sense of peace; perfect for two parents, who had been fretting over their child, earlier that morning. Our daughter loved the hotel room, which contained an old-fashioned writing desk, and soon settled down for her afternoon nap. This left us free to enjoy the views and each other's company for a while.
The lulling sun-glow was hard to resist, but we didn't want to spend our whole day relaxing, so when our daughter woke up, we went for a drive.  We found waterfalls and raggedy sheep, a sheep's skull at the side of the road, left like a trophy . . . and everywhere we could see and feel the energy of the surrounding mountains. They seemed to take breath from the vitality of the sky and water.  We breathed in too, as if to absorb the atmosphere, take it home with us.
In the morning, I didn't want to leave Leenane and found myself clinging to the sight of a deep green, dimpled hill. It's curious pattern reminded me of icing.  But our time had moved on and Bunratty would be the next stop before home.  You could spend a whole day at Bunratty Castle and Folk Park – there is so much to see.  We contented ourselves with a warm afternoon, going into the main rooms in the castle (some are up too many spiral stairs, when you have a small child) and reading about Lord and Lady Gort's efforts to restore the place, in 1954.  The cottages and houses in the Folk Park are delightful, with many set up exactly the way they would have been in the 19th century.  They include a school, doctor's house and post office.  Bunratty House is also open to the public – a stunning example of a Georgian residence for the gentry, built in 1804 and formerly home to the Studdarts, the last family to occupy Bunratty Castle.
But it is the Connemara landscape that lives on in my mind, as I look back on our short holiday.  I think I am learning to accept its wildness and not be afraid to let it seep into my soul, imprint scenes on my memory and call me back for more.  Perhaps, next time, I will go in the autumn, see the cool blue challenged by fiery trees. For each season has its own brand of magic and County Galway is the type of place where magic comes to life.