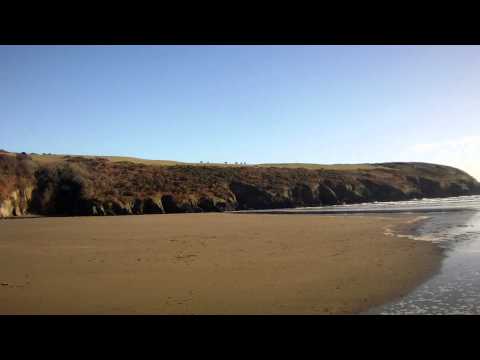 If you're a regular reader, you'll know that hubs and I are enthusiastic seaside explorers.  We're out in all weathers, just waiting for the thrill of sand underfoot and waves on the horizon.  Our latest adventure took place in Stradbally, County Waterford.  Stradbally is a popular location in the summer but rather quiet in the Winter months.  Happily, a little sunshine graced us with its presence as we strolled along in tune with the water.  The sea was milder than we had anticipated, it even sparkled!
As we continued to explore I noticed the striking colour and texture of the cliffs.  A musical mini waterfall alerted me to the existence of a cave, containing glistening wet stones in myriad colours.  Right at the back of the recess, a muddled structure, not unlike noodles caught my attention.  Hubs had moved on and I blinked my eyes, wondering if I was imagining this strange phenomenon.  Internet research has since enlightened me and I can confirm that I am not mad and there is a name for this kind of formation: helictites.
Helictites are formed by calcite laden waters seeping through miniscule pores in the rock.  Hydrostatic pressure forces a small amount of the solution out, carbon dioxide is lost and calcite deposited.  All quite baffling, but fascinating, particularly when I got to witness it up close!  I feel like I've experienced a kind of magic and I suppose nature can do that to you sometimes.  That's why it's worth getting out of the house, even on a cold and blustery day.
And speaking of cold and blustery . . . Hubs and I decided to travel on to nearby Ballydowane Cove and the waves were incredible: crazed, foaming, rushing up to sweep us off our feet, (there was some hasty scrabbling for safety).  We were amazed by the contrast and just as thrilled by the tempestuous nature of the sea as we had been by the peaceful beauty of Stradbally.  The crunchy gravel of the shore was also very different from the soft sand of our previous location.  I was glad we had made the effort to take a look.
My encounter with the breathtaking cave at Stradbally has inspired a poem which I may read at the Waterford Writers Festival on the 23rd March.  I'll mainly be reading from my four collections but I'm thinking it might be nice to conclude with one or two new poems.  I'll decide closer to the time.  Meanwhile, I'm making a start at publicising my Creative Writing Workshop: 'Story Wise', due to take place at Clonmel Craft Studio on March 2nd and Dungarvan's Bridge House (in association with Storytelling Southeast) on April 13th.  Both workshops will be completed over the course of the day (from 10am-4pm).  Clear story-writing techniques will be outlined, from finding inspiration to character sketching, creating realistic dialogue and plotting.  I'll put some more details on the blog next week so do call back and spread the word!