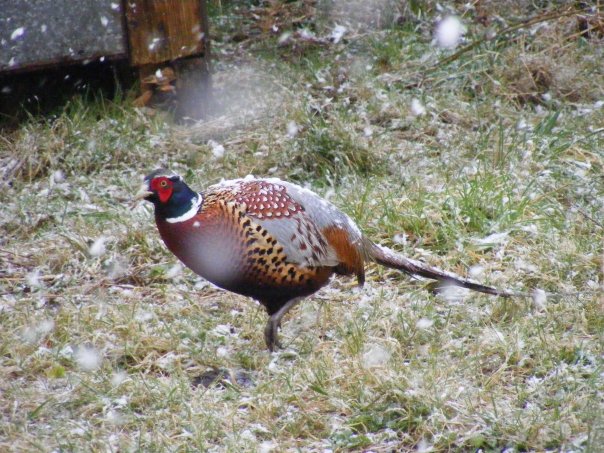 I went walking in the snow on Saturday.  It wasn't intentional.  Hubs and I had been out most of the day, seeing family and shopping at the supermarket.  A walk seemed like the perfect tonic, a moment just for us where the cold wind wasn't something to battle with, but something to be embraced and energised by.  When you've been cooped up in stuffy surroundings, jostling with crowds, a walk feels like breathing again.  Admittedly, the air we were breathing was particularly icy and we were bundled up in Winter coats, scarves and gloves.  But we were out there, unfashionable but determined to catch the last light of the day and make it matter for us.
Less than half the way up the road we felt the first drops, tiny particles of snow.  You couldn't even call them snowflakes but they were the white stuff all right, even if only in miniature.  It began to fall heavily and I wondered if we should turn back but hubs pressed on, while laughing at my snow covered state.  I was wearing black so the dusting of white was very obvious.  It had settled in my long hair, making me feel an affinity with eskimos and a part of our very own Winter's tale.
Snow always brings that touch of wonder and magic.  It is so pure, yet it can cause immense destruction.  The two sides of its character make a powerful contrast.  Luckily, the snow stayed small scale and didn't stick.  We have been trapped by it before.  You may have heard me referring to 'The Great Snow' of 2010.  In truth, it wasn't so great.  It was imprisoning, enduring, persistent.  So, although I enjoyed my walk I'm more than glad the snow has drifted away quietly, leaving no legacy.
I'm sure the birds are happy with this turn of events too.  I mention them because we have a lot of birds flitting in and out of our garden at the moment.  Some are friendly and inquisitive like the blackbirds and thrushes.  Some keep their distance, like the pigeons, battling for territory amongst the trees.  Some we meet out on the road, like the mesmerizing pheasants with their colourful plumage.  They are a constant worry with their indecision and tendency to run out in front of cars.
I call this collection of feathered friends 'birds of faith' because they are out in all weathers and always look the same.  Although they may be small and delicate in appearance, in heart they are resilient.  The birds that stay and face down Winter.  The birds that believe.