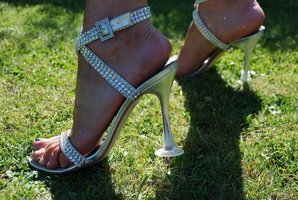 Imagine . . . me in a red dress and heels tottering along the gravelly path towards one of Ireland's most stunning, unspoiled tourist attractions: Mahon Falls.  Yes, I know I was dressed inappropriately, I was having a smart day ok?  I have those sometimes . . .at the wrong times, obviously.
Anyway, it was a drizzly afternoon so myself and hubs decided to make it a short walk.  He seemed amused by my wobbly attempts to avoid the liberal scatterings of sheep poo although he did tell me I looked 'wild and beautiful'. My ego suitably massaged, I straightened up a little, ignoring the multiple strands of hair now straggling across my face, thinking this could only add to my craggy appeal.
It wasn't long before the restrictions of my heels and the insistant wet weather drove us back to sit in the car and contemplate nature.  In fact, I had provided further material for our contemplation: Shelley's Selected Poems ( I was also having a highbrow day!)  The truth is I quickly scanned the book shelves before I left the house, wondering what I could read.  My eye alighted on the Shelley volume and I realised I had never read it.
Shelley's lifestyle was almost more captivating than his verse.  He was expelled from college and eloped with a sixteen year old, going on to have a passionate affair with Mary (to become Mary Shelley, writer of Frankenstein).  He was arrested for his controversial writing and was best friends with the infamously wicked Lord Byron.  Even in death he did not go quietly, losing his life in a mysterious sailing accident.  Reading about these incidents (at the start of my edition of his Selected Poems) has inspired me to look further into his life.  I wonder if anyone has written a decent biography?
I rediscovered another book the other day: Phyllis Whitney's 'Guide to Fiction Writing'.  I bought this book back in the days when hubs and I regularly spent our holidays in Hay-on-Wye (town of books).  We used to buy a ridiculous amount of literature, often not stopping to think whether any of it was actually readable. I haven't read any of Phyllis Whitney's fiction (I believe she wrote mystery novels) but she does have a few good tips on writing discipline.  She stresses the importance of keeping to a fixed writing time and recognises how strong the temptation not to write can be.  She also acknowledges that life itself can interfere with the writing process but says you should use your experiences to colour your creative work.
I do this all the time with poetry but when it comes to short stories I sometimes feel I'm holding back . . . Perhaps my next effort should feature a precarious yet glamorous heroine, a gallant husband and ummm, some sheep?  A relentless drizzle?  Maybe not then 😉
Picture sourced at: http://www.mynewsdesk.com/uk/pressroom/prettypinktoes