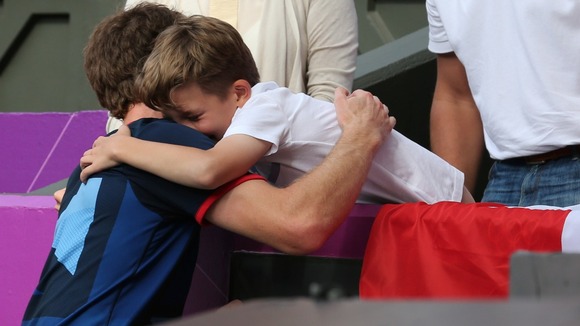 I'm enthralled by the gold medal stories emerging from London 2012.  As a massive tennis fan I was particularly thrilled to see Andy Murray exact his revenge on Roger Federer by putting him to the sword in an emphatic three set defeat.  It seemed only right that he should progress from disappointment to triumph, finally proving he has the game to outwit  and outshine the superstars of tennis.
As the camera found the faces of his loved ones who had sniffled and lip-wobbled with him at the Wimbledon final, the story reached its proper ending with the long-suffering Brit achieving his biggest win to date.  Climbing up through the crowd to receive congratulatory embraces, back slaps and pecks he was also captured turning back to give a young fan a big hug.  This warm moment uniting sportsman and spectator summed up the glowing atmosphere perfectly.
The glow actually began the previous night with Britain winning triple gold at the Athletic Stadium. While Jess Ennis fulfilled her promise in the Heptathlon with a stunning display of confidence, stamina and tenacity, Mo Farah delivered a flawless performance in the 1000 metres.  Meanwhile, Greg Rutherford executed a surpise victory in the long jump sending Saturday into the history books and inspiring Andy Murray to continue on in the winning spirit.
But enough of British glory, this Olympics will also be remembered for the introduction of a delightfully eccentric character: Russian High Jumper Ivan Ukhov.  He entered the arena like a bouncy, slightly unsteady teenager, reminding me of vintage Keanu Reeves.  His hair was wild and wavy, his posture rather droopy.  He didn't look like he was taking the event seriously but was evidently capable of some serious jumping.  The classic moment was the loss of his vest as he stood bare-chested and bemused, searched under a bench, then threw his hands up in the air.  Before anyone could stop him he was speedily donning a sloppy T-shirt and jumping for joy anyway.
And as for Ireland (my adopted nation), their hopes centre on boxer Katie Taylor who is now assured of at least a silver medal.  She has looked unstoppable in her matches so far.  I love her fearless, in your face style, the way she is always moving, always attacking.  She is a great role model for anyone interested in sport and I hope she will inspire many.  As for me, well I've always been more of an observer when it comes to sport but I must say I have been wondering what Olympic event might suit me.  They do say you can take up shooting at any age.  It just means conquering my fear of guns and developing some strength in my arms.  Hmmm, I may not make Rio.
Picture sourced at: http://itv.co/QfjqbQ
London 2012 Olympic Gold Compendium