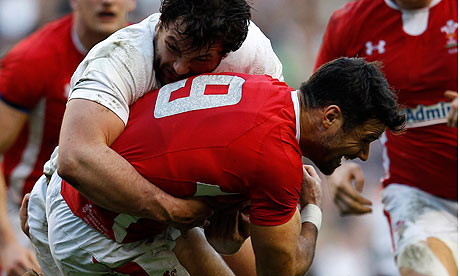 I've had an adrenalin fuelled weekend in which all of the above have combined to inspire today's blogpost.  The adrenalin mainly flowed whilst I was perched on the edge of my sofa watching Wales in a physical, heart-stopping game against England.  You'd think I'd played the match myself!  Well, they do say watching sport can be just as tiring as taking part.  Great, that's my new fitness regime sorted, watch more sport 🙂
Anyway, as I was saying, to play England at Twickenham and win means a lot to the Welsh, whether they are actively involved or just cheering.  Here, I could trot out phrases like 'getting fired up' and 'the old enemy' but none of them seem to sum up the exact formula for beating England.  Any encounter between the two sides is a mighty battle of wills.  For the Welsh, it's vital to be able to channel that inner dragon then release the fire in a way that combines control and passion.  The formula was obviously brewed to perfection at the weekend and I'm delighted with the Triple Crown win and the fact that we have a real shot at the Grandslam!
In other news, I finally made my annual pilgrimage to the woods where an impressive array of frogspawn is guaranteed at this time of year.  Now, I don't know about you but I'm fascinated by the stuff and have been since childhood.  The thought of that crystal coloured, jelly like substance housing the beginnings of curious lifeforms is strangely compelling.  This particular frogspawn did not disappoint although I think I caught it just in time.  Some fine looking tadpoles had already begun to wriggle with gusto.
"They'll eat all the little ones," my husband informed me cheerfully.  Well, that shattered all my cosy 'brotherhood of the tadpole' illusions.  Moving swiftly on to the stream we discussed plans for our future whilst wet pebbles glistened underfoot and it was a lovely Spring day feeling.  Yes, I think we can definitely confirm the start of the new season.
And with Spring comes party time! Forget the BAFTAS and the Oscars, in the world of K. S. Moore family comes first and there are a whole host of events coming up including my parents' Golden Wedding Anniversary, a 21st Birthday, a Christening and a Wedding.  Luckily I embarked on a shopping marathon with Mum-in-law at the start of the week and picked up the most gorgeous little gold dress!
Now, Kylie's hotpants it is not, being neither scanty or bum hugging but it has that same level of razzle-dazzle and I can't wait to wear it.  Of course I've a few other outfits lined up but they will have to wait for another blogpost.  Writing wise, I'm still busy promoting my ebook 'Ghost Writer' available at http://amzn.to/zLCokG .  Planning to post an extract here very soon, will let everyone know via Facebook and Twitter.  I've also been dusting down a novel I wrote some years ago to see if it might be worth revisiting.  These are exciting Spring days .  . .
Picture sourced from http://www.guardian.co.uk/sport/blog+england-rugby-union-team