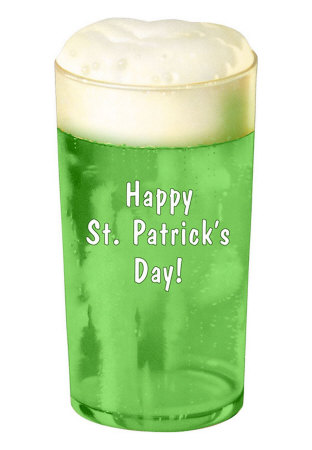 First Aid is not in my good books right now. Firstly, Saturday's class caused me to miss Wales v Italy and a gorgeous sunny day (which could have been spent on a nature walk). Secondly, it's too hard! I know I need to get my head down and revise but I am really quaking at the thought of performing cack-handed CPR in front of the whole class (and being assessed at the same time). I am also dreading the return of 'the sling'. A mind like mine was not made for slings, quite what it was made for I'm still trying to discover . . . quite possibly daydreaming and doodling which is of no use to anyone (and certainly not in an emergency).
Never mind, at least I have this weekend off as it's St Patricks Day on Saturday.  The hubs and I are contemplating going to a pub, something we haven't done in a long time, basicallly because we live two miles from the nearest one and the taxi service is of the 'I may turn up if I feel like it' variety.  Let me explain, we live in the depths of the Irish countryside.  Picturesque it may be but kind to party animals it is not.  There's also the fact that to buy a drink in an Irish pub is horrendously expensive.  You find yourself justifying that bottle of wine and packet of crips in front of the TV very quickly.
But  this weekend we may just venture out into the wild word of St Paddy, don a green and gold crown, wave something swirly and drink a pint of Guinness.  Except that I'm off Guinness, for life.  And no, that's not something I wish to go into today!  Suffice to say the black stuff has a history of not being so good for me.  All I'm really hoping to soak up this Saturday is some great music and a hearty atmosphere. I'm anticipating singsongs and 'woo-hoos' particularly as the 6 Nations reaches it's conclusion with a Wales / France clash (and Grandslam decider) and an Ireland / England encounter.
I'm already digging out the Welsh Jersey, crossing my fingers, and muttering a prayer. The plan for Saturday is to belt out 'Hen Wlad Fy Nhadau' wherever I am, whoever I'm with.  So watch out St Paddy revellers, there may be a Welsh woman among you this weekend and she may be a cheering, jumping, red jersey wearing fanatic.  Hmm, if I'm contemplating that much craziness perhaps I'll need that drink after all . . .
Picture sourced from http://cookwithabandon.wordpress.com/2011/03/17/everybodys-irish-on-st-patricks-day/