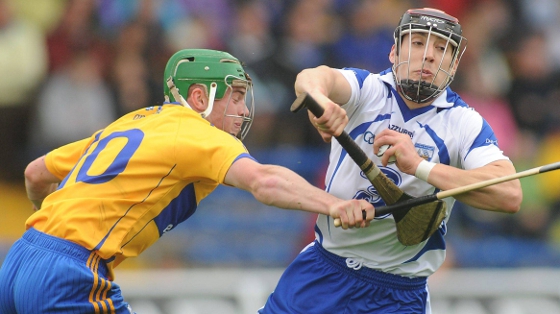 This Sunday Waterford will face Clare in the Munster Senior Hurling Championship and sparks are sure to fly . . . Before I continue here is a very short guide to the Irish National game of hurling for my readers from other countries. If you're Irish feel free to skip ahead unless you want to laugh at my clumsy grasp of the game 😉 .
Teams consist of 15 players

Players use sticks called hurleys (not unlike hockey sticks) to hit a small white ball.

Players may also hand pass or kick the ball but must not take more than four steps while doing so.

Points are scored by hitting the ball between the posts and over the crossbar.

Goals are scored by sending the ball into the net and under the crossbar (not rocket science, I know!)

The score is displayed as 1:2 The first score indicating the number of goals, the second the number of points scored.
* Fun fact: the men in white coats behind the goals are not psychiatrists but umpires!
So, as I was saying Sunday's clash (set to take place in Thurles) promises to be a fiery, hard-hitting encounter. With Waterford's former manager Davy Fitz now in charge of Clare, it has been suggested that he will use his inside knowledge of Waterford to his advantage. However, Waterford in turn are used to receiving his direction and may be able to capitalise on this familiarity.
No strangers to controversy in recent times, the Waterford side looked a little shaky in the league games earlier this year and have also faced uncertainty over key players. Eoin Kelly has made brief appearances but is rumoured not to be fully match fit whilst John Mullane took a family sabbatical. Both players seem to be back in the picture but have they lost their edge?
Then there are the young pretenders, including forward Maurice Shanahan. He has showed promise for a long time now, could this be his big chance to fully emerge from his big brother's shadow? I'd like to think so as I always get the feeling he is holding back through lack of confidence. It would be great to see him throwing caution to the wind and showing some guts.
Unfortunately his fellow up and coming team mate Padraic Mahoney will be absent due to injury. Mahoney showed great presence of mind and coolness under pressure in his free-taking during the league season. Meanwhile, Martin O'Neill gave a spirited performance, ensuring John Mullane's loss was not felt as keenly as many had expected. Indeed, I wonder if it was fair of Michael Ryan to put Mullane on for a full game as soon as he returned. His younger replacement couldn't have worked harder in his absence and deserved better.
In recent interviews Ryan has been evasive about Waterford's chances this Sunday merely stating that they will deal with whatever is thrown at them. What a fabulous non-statement! Of course they will deal with it but how? With courage, aggression and creative play or with mild, accepting defensive tactics? Time will surely tell as we prepare to watch 'Waterford v Clare 2012' with bated breath.
The Waterford Team: S O'Keeffe; A Kearney, L Lawlor, S Daniels; R Foley, M Walsh, P Mahony; K Moran, S Molumphy; M Shanahan, S Prendergast, E Kelly; J Mullane, S Walsh, G O'Brien.

Picture sourced at: http://bit.ly/93ANZ3