You may have noticed I've been rather quiet on the Wimbledon front, this year.  That's because I've been holding my breath, watching and hoping more than ever!  Of course, Andy Murray and Wimbledon did not disappoint.  It has been the perfect tennis story.  It makes me appreciate the fact that my Mum always sat down with me to watch the tournament and clearly explained all the rules, which meant that I could easily follow the action.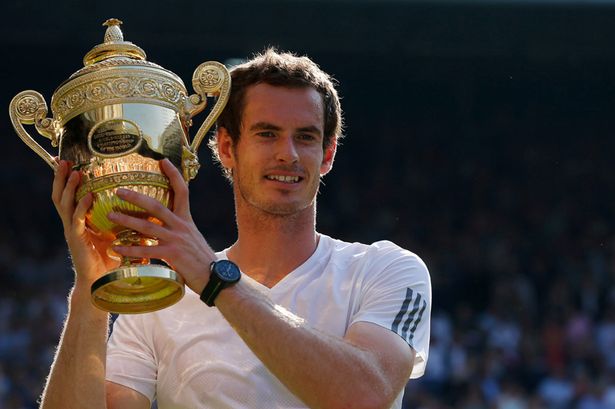 Tennis is definitely the sport closest to my heart.  I even used to play it as a child and I could never have been described as sporty.  It amazes me to think that I used to be able to serve and everything!  If I was asked to do that now, I wouldn't know where to start.  Mum was also responsible for teaching me the basics of tennis.  We used to accompany my Dad on days out in his Vintage Car, and while he checked out the other vehicles on show, we would find a patch of grass and start hitting about.  We used to pretend to be Martina and Steffi!
By the 90s, I was heading into my teens and felt more self-conscious about playing tennis.  I lost the knack of serving and didn't seem to have the same energy on the court (or on that patch of grass)!  I continued to watch Wimbledon, though, and was delighted to see a new character and thrilling sportsman edge into view.
Ok, so he wasn't British but Andre Agassi was a total star!  There was nobody else on the tour who could return a serve like him.  His appearance also drew attention – his long blonde hair, piercings and heart-melting brown eyes . . . I will never forget watching him in the final against Goran Ivanisevic.  The match went all the way to five sets.  It was so tight, I had to leave the room for half an hour!  But I returned to see Agassi belly-thud onto the court in utter disbelief as he won!
Then, there were the Tim Henman years.  I'm not a nail-biter, but I must say Tim nearly sent me in that direction . . . Cushions were certainly squished, the arm of the chair was battered and our Tim (despite great courage and a very visually pleasing game) couldn't quite get there.  So, now that a British player has finally achieved what seemed unachievable there is relief all round – for Murray, for the nation, for Gerard Butler and Bradley Cooper, (who were caught on camera ooohing, ahhhing and jumping up and down) and for David Cameron, who probably hopes talk of a knighthood will distract attention from his methods of running the country.
Meanwhile, I hope Murray will not get swept off course by all the back- patting and hysteria.  He still has a job to do, which includes defending his US Open title next month.  I don't see why he can't add more Grandslam titles to the two he has won so far and hope that The US Open will be broadcast on British TV this time.  It's ridiculous that I had to resort to Google to follow the score last year!
Before I sign off, I must also mention Dan Martin's stunning stage victory in the Tour de France.  As everyone settled in for a dull defense of the Yellow Jersey, Martin defiantly rode to the front, sending a clear message that he is not in the least risk adverse.  There is even talk of the Irishman challenging for the Yellow Jersey at some point in the future.  It's great news for Ireland and a much needed shake up of the Tour de France action.  I respect what Bradley Wiggins did last year, but a few more twists, turns and shocks would certainly liven up this year's competition.  Let's hope all the other mountain men have similar plans!