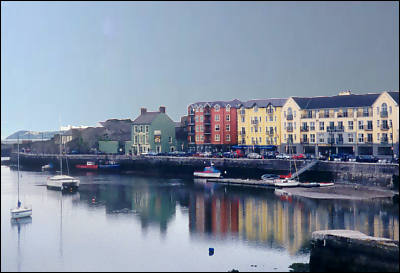 I'm really looking forward to teaching a Creative Writing Workshop at Bridge House, Dungarvan this Saturday.  The workshop is being held in association with Storytelling Southeast, a Writing Festival which occurs in Autumn.  The festival team also support art and literature events throughout the year.  An exhibition by the Bridge House Artists will be taking place at the same time and I'm planning to use the art to inspire participants!
The visual is often a key to creativity.  I find walking and observing small details often leads me to a contemplative piece of prose or a poem.  Similarly, a photograph or picture can help to generate writing ideas.  Back in September, I attended the Arts Fair at Theatre Royal, held as part of Waterford's Culture Night.  We were given a free art tour and because our guide was very passionate about her subject it turned out to be a memorable experience.
A highlight of the tour was a chaotic piece of art, liberally splashed with colour and littered with objects.  Each object was 'almost' something, allowing the viewer to make their own conclusions. To me, the painting looked like a main road occupied by some indistinct cars with a plane overhead and a random diplodocus snaking across to disrupt the action. Something about the energy and eccentricity of the picture reminded me of the Bruce Willis film: 'The Fifth Element'. I was impressed by the startling fantasy, but the way it had my eyes darting all over the canvas left me a little disorientated.
I was inspired to write an article for Writing.ie, reviewing the fair and my own reaction to the art.  It was such a powerful stimulus that I was delighted to hear there would be art on display this Saturday.  I will be working it into a writing exercise to get those ideas flowing!  But, it's not only an arty day in Dungarvan, it's also a foodie day as the West Waterford Festival of Food prepares to set mouths watering.  The lunch break will provide the perfect opportunity to have a stroll around some of the stalls and the workshop will of course be over at 4pm, allowing plenty of time to explore the nutritional delights afterwards.
I may have to find a way to incorporate food into the creative proceedings.  Although, that will probably make us all hungry . . .  It's a good job I've already bought biscuits for the day!  If you like the sound of Saturday's workshop, you still have time to book a place, but I do need your name by Thursday evening.  The website now has a new booking system.  Why not try it out here?
Picture sourced at travelireland.org
Arty Foodie Creative Writing Dungarvan.