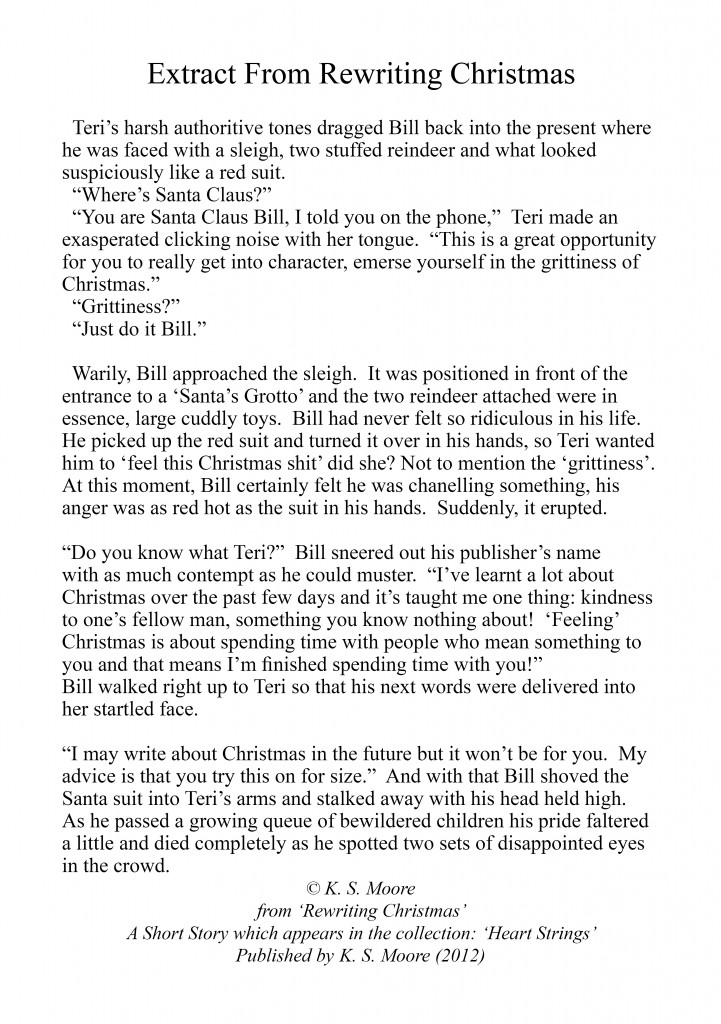 In festive tale: 'Rewriting Christmas', a cynical writer (Bill) battles with his publisher and self appointed publicist Teri.  Teri cracks the whip from behind a polished facade of vanilla lipgloss, spicy perfume and empty air kisses.  At this moment in time she is forcing Bill to write a Festive Novel for commercial gain and is obsessed with him embracing the season which she acidly refers to as 'this Christmas shit'.
But Teri isn't the only challenging female in Bill's life.  He is also at loggerheads with his glamorous girlfriend Shania as she fails to support him in organising his first ever Christmas Party.  When local Coffee Shop owner: Harriet steps in at the last minute, Bill rediscovers his softer side.  And with Harriet's solemn but kindhearted little girl: Greta also on the scene, it's not surprising.
However, Bill has one great fight to win before he can allow true romance into his life.  The fight is against himself, feelings of guilt following his divorce and the overriding fear that he will 'mess things up'.  Perhaps a good dollop of snow will put things into perspective?
For a further taste of this story and others, head over to Amazon:  http://amzn.to/Sg7Zof  (UK) or http://amzn.to/UZcva (US) where 'Heart Strings' is available for just £1.99.
Heart Strings Extract: Rewriting Christmas, A Festive Tale.