I do hope everyone in the UK and Ireland enjoyed National Poetry Day on October 2nd.  I was visiting my home town of Swansea, so I'm a little late posting this poem.  Please forgive me! The poem is brand new; only written a week ago, and was inspired by thoughts of home – the sounds and sensations of the sea and the desire to be immersed in their spell.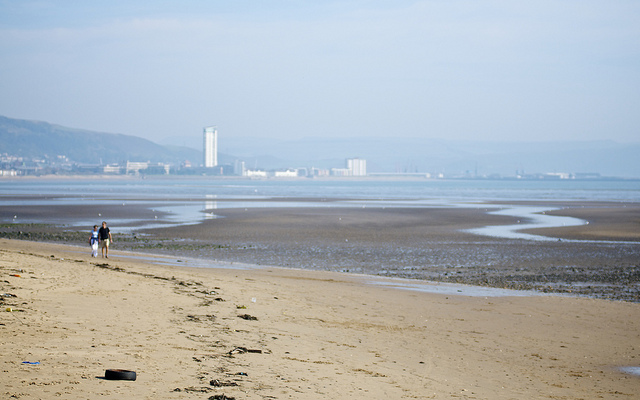 Home Waves
To lie
on the line
between sand and sea
will not be enough,
will not express
my homesick, long-hearted
fondness for here.
The print
of my profile
will wobble,
the next wave
writing music,
its white soul.
I will stand,
damp air pressing
a kiss, find the grey
in each cloud, comfort
in sky-dull colours.
Later, I'll snow-globe
the memories, shower
myself in lost rain, feel
the hurt, my own line –
me then, me now,
the split.
© K. S. Moore, 2014.
Bear in mind, that this poem may undergo drastic redrafts in the future, but for now, I'm happy that it has captured some of the strong feelings I have for Swansea, and the spirit of the seaside landscape.
Check back next week for details of all my recent adventures in Swansea and South Wales.  I have a few stories and pictures to share!
 Photo credit: Stuart Herbert / Foter / CC BY-NC-SA