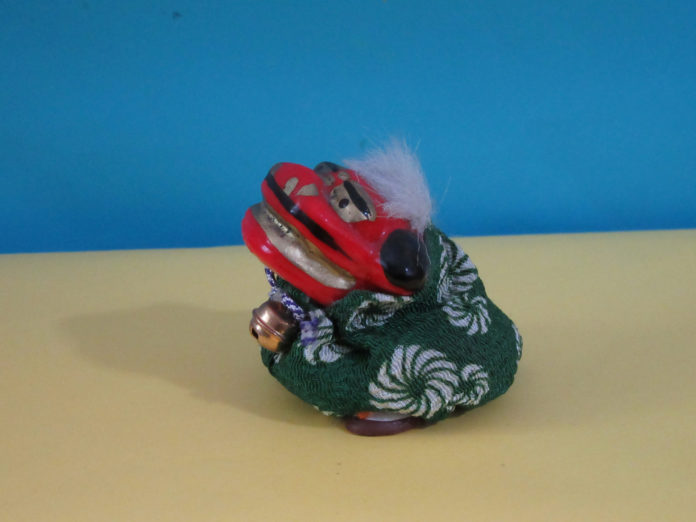 This Japanese Dragon Flash Fiction piece, came to me when I received the gift of a Japanese Dragon ornament from my brother-in-law, on his return from Japan.  The Dragon has a special kind of energy about him, a flamboyance, a history.  Now, he has a life in prose.
Japanese Dragon – Flash Fiction
He has a gold smile and a bell at his throat. He guards me as I write. He was a present from Japan – a place I have never been to, never will go to. I am no traveller, yet, I am drawn to delicate portrayals of Japanese life: a bridge, a hut, bright flowers.
I own a set of plates, decorated by portraits of Geisha. I think it's the beauty and exactness of their culture that attracts me. All seems calm, within the rules. My own world is chaotic: draped washing, a cluttered table, a kitchen, never quite clean enough.
I will use the plates at the next party I host. They will be a talking point. Then, maybe I will set my dragon next to the teapot, imagine him dancing. He would be a leader – the vibrant heart-soul of the parade.
I think of the local carnival. Every year the army cadets twirl batons and click their feet. A fairy princess is chosen. My dragon would stir things up, would beat and stamp and beat and stamp . . .
K. S. Moore
Photo, also by K. S. Moore.