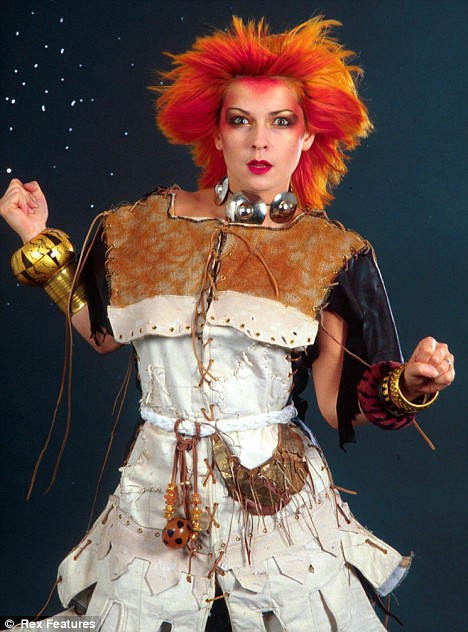 I was at a 21st birthday party on Saturday and it started me thinking about my own celebrations a few (aherm) years ago.  Instead of looking a vision in pink with glittering gold heels (as Saturday's birthday girl did) I wore leather trousers, a zip top and a bright red and orange 'Toyah' style wig.  Yup,  my 21st was an 80s themed house party.  I always have to be different!
Some of the guests ignored the dress code, opting for glitzy makeup, a cowboy hat or none of the above.  Others made a real effort including my eldest sister who turned up as Michael Susanne Steele from The Bangles complete with guitar.  Her wig was exactly the same as mine only raven black, inviting such comments as 'wow, you can really tell you're sisters.' and (bizarrely) 'The wigs suit you!'  Really?  Since when did a multicoloured mullet suit anyone?  Don't answer that question, everyone has their personal tastes . . .
As I was saying, some people really embraced the theme.  There were two Adam Ants, a Wonder Woman, a She-rah, a John McEnroe and a Kim Wilde.  The music was exclusively 80s.  I had so much fun putting those tapes together.  I remember going round to my sister's house and trawling through her music collection for dance floor gems.  My two sisters and brother are a lot older than me which probably accounts for my love of 80s music.
And if you don't believe in its power – get this, people danced at a house party where the only dance floor was my living room carpet.  Of course, the fact that I was happily guzzling away out of my personal stash of WKD Irn-bru could also have been a factor.  The alcoholic orange stuff had me buzzing and I achieved that rare thing referred to as 'dancing like nobody's watching' and managed to persuade others to join me.
These days, the only orange stuff I drink is dissolvable Vitamin C, good for the immune system apparently, although it doesn't seem to have any effect on mine.  Perhaps I should have stuck with the alcohol . . .
On a writing note, I'm still working on poetry at the moment and no, it's not about my misspent youth.  It's about angels on water and finding a musical note on the wind.  It's great to be back writing verse again as for a long time I thought I'd lost the knack.  It seems I was just waiting to be inspired by the right things 🙂
Picture sourced from http://misterleroy.blogspot.com/2010/06/blog-post_27.html