I'm excited to share the news that 'Poetry at Christmas' will take place at Greyfriars Municipal Art Gallery, Waterford on Monday, 23rd December.  Come and join the Christmas fun from 5.30 pm, as three poets: K. S. Moore, Eve-Marie Power, and Kevin Connelly explore themes of Winter and Christmas through poetry. This will be the finale event of the Winterval celebrations at Greyfriars, with the Christmassy atmosphere enhanced by seasonal artwork and photography.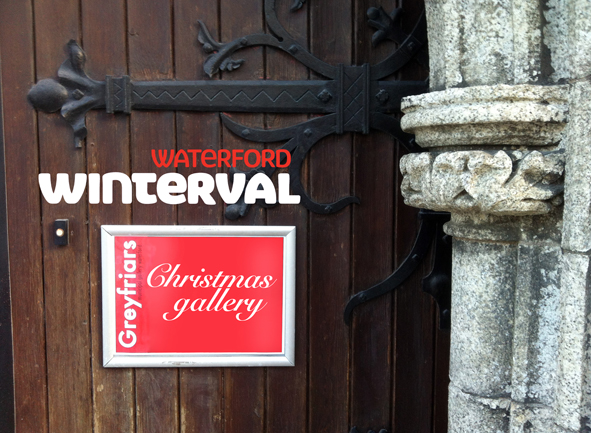 We poets will strive to capture the essence of Winter and Christmas through words.  I have a number of poems lined up which touch on snowy landscapes and traditions of mistletoe and poinsettia.  I'm even planning to read a poem that I wrote a couple of weeks ago.  It's about crossing from season to season and trying to choose the right path forward.
The reading is free to attend and we hope to welcome as many people as possible on this special evening some call 'Christmas Eve Eve'!  The Gallery Coffee Bar will also be open, so if you're feeling the cold, you can warm up with a hot beverage!
As I look forward to this event, I'm reminded of Christmas memories:  the chocolate advent calendar, my aunty used to send me through the post, frost-enchanted leaves, on the walk to school and my delighted disbelief that Christmas had come around again.  How could life be so good?
Of course, Christmas changes as we get older.  The number of presents reduces, siblings grow up and away, start their own families and Christmas traditions . . .But I've found, if you continue to embrace the season, it never loses its magic.  This year, my husband and I will be taking on the challenge of cooking our own Christmas dinner.  I'm sure we should have some kind of culinary strategy up our sleeves, but we don't.  Not even a small one.
However, I'm confident we will work it out.  One constant that has remained with me for the past eleven years, has been the company of my husband on Christmas day and I'm looking forward to the two of us sitting down to dinner in our own house.  We have a reason to make an effort with the table this year, which means buying a centre piece to match the Christmas table mats we have already bought.
I just have to be careful that all these new thoughts of food and table decorations don't distract me from the fact that I have a few more presents to buy, many presents left to wrap and all my cards to write.  Oh, and the other facts that I'm writing a novel and have a poetry reading to organise and promote!  But what would Christmas be without a little madness?