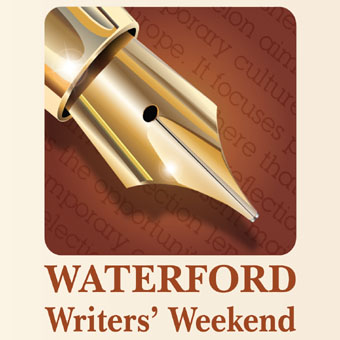 Waterford Writers Weekend is fast approaching, my excitement levels are rising . . . The urge to blog about it cannot be suppressed any longer!  I will be reading a selection of my poetry at 2pm in Bishop's Palace Cafe, Waterford on the Saturday of the festival, March 23rd.  I plan to give a flavour of each of my four collections, starting with my first: 'Verse Related', published back in 2005.  There is a passion and spirit about this collection which originates in youth, hope and dreams.  It includes poems I wrote when I was still at University during a period I call my breakthrough years.
I took my first Creative Writing module in second year and although my tutor was very encouraging, my marks were lower than I had expected.  Heading into third year, I was fearful that my work would never amount to anything.  I had always thought of myself as a poet, as a writer.  My whole identity seemed to be in question.  Looking back, even if my marks had stayed down that wouldn't have been a reason to stop writing.  At that age approbation seems so important.
I was told that my poetry was very natural, that I should try to get it published.  I was delighted but had no idea how to go about achieving this.  I just concentrated on getting the work done and making best use of my tutor's advice and experience.   Some years later, having been published in a few magazines but also rejected by many, I decided to take matters into my own hands.  At this point there was very little support for young writers and I wanted to remedy the situation.  'Young Welsh and Poetic' was born.
Meanwhile, I had a book to launch.  Back then, my subject matter was varied, leading me to divide the collection into three sections: Relationships, Nature and for those poems that defied categorisation but leaned towards the emotional: Mixed Feelings.  I had spent a lot of time putting the book together from those early breakthrough poems to intense observational work where I compared, contrasted and wove all into rhythmic offerings I hoped would reach people.  The opening poem: Ambition delivers fierce intent while the concluding poem: Death draws on melancholic and dramatic influences.  I was certainly striving to make an impact!  The launch was a success and a great platform from which to build a publishing company that recognised young talent, providing mentoring and guidance towards publication of a first pamphlet and first collection.
While I opened the doors to other young writers I began work on a second collection: 'Of Mermaids and Moonfish'.  Growing up by the sea, I was always inspired by its changing moods, colours and movement.  It seemed obvious to write about it.  As research, I spent a lot of time at landmark beaches such as Rhossili, Three Cliffs and Port Eynon.  I found many stories, many voices in the waves.
A year later 'Landscapes and Hearts' took form.  It expands on the nature themes present in my previous two collections, exploring mountains and snow scenes and discovering hidden magic.  Childhood memories and the process of growing up shine through these themes, reflecting my own journey towards adulthood.  My fourth collection: 'A Flower Girl's Tears' is a continuation of this process.  While writing it the rain never seemed to stop.  Reading it back I can see how this creeps into the poetry: 'too little dry time, an excess of tears, makes the poor flower girl wilt.'  Birds also feature in great numbers with a magpie, a sparrow, a peacock and flamingos all taking centre stage.
By this time I had worked with five other young writers, all aged under thirty, two still teenagers, all incredibly talented.  Moving to Ireland with my husband in 2009 meant extreme change.  I would need a new project.  It took a while to acclimatise and the words came slowly at first.  Eventually, I was writing the stories that would become 'Heart Strings'.  Poetry drifted in lazily, not presenting itself as ferociously as in the Young Welsh and Poetic days but I was just relieved it hadn't abandoned me.  I probably have enough for a fifth collection at this stage.  It will happen at some point.  Right now I'm focusing on that reading, a week Saturday. It will be live, it will be real and risky.  Words always are.
Poetry at Waterford Writers Weekend.