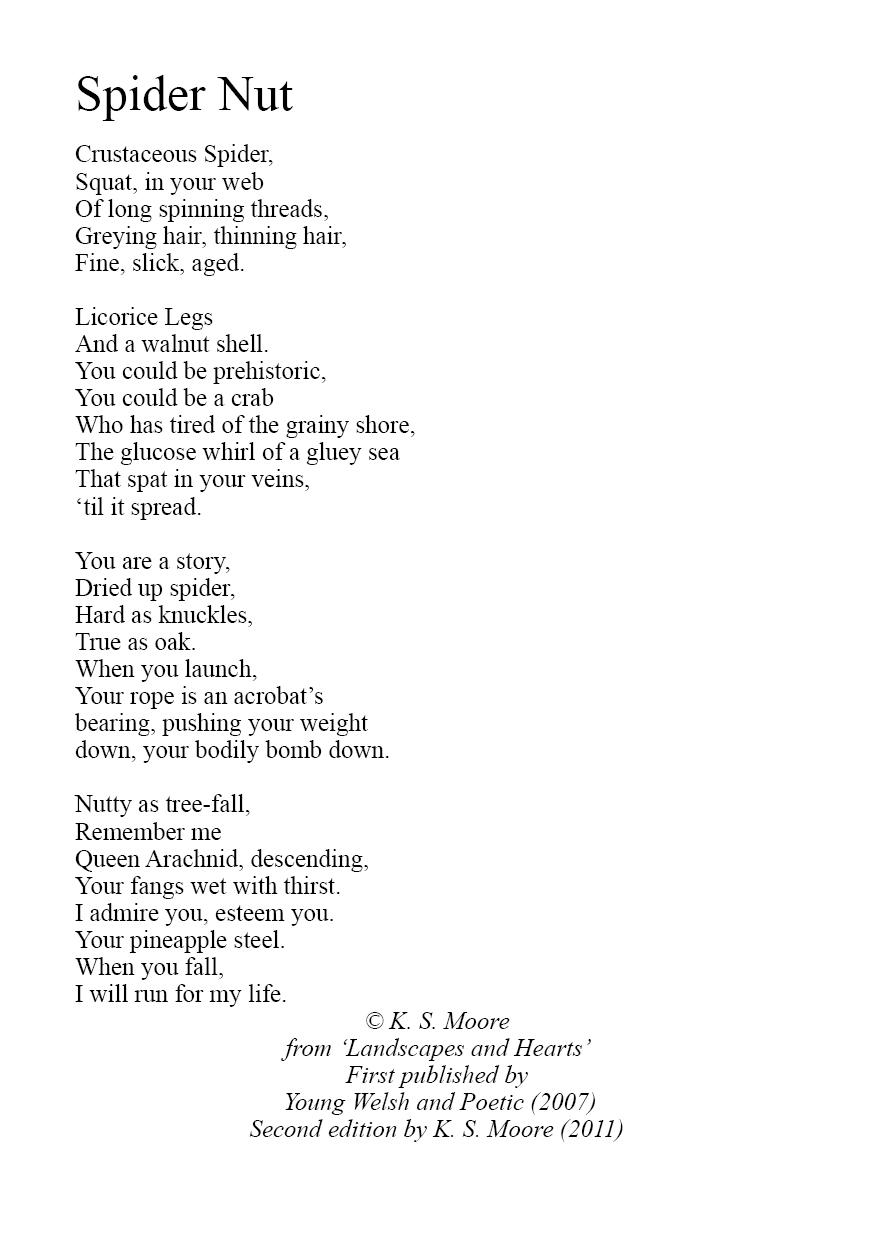 So that's my best and scariest spider poem and I hate to tell you, it's inspired by a real life creature who lived over the front door of my house.  Happily, I'm referring to my old house, not my current residence.  Yes, that means the spider was Welsh, hopefully they don't grow them as big in Ireland, although I have met some contenders recently!  The extraordinary thing about that spider was the size of his body.  It was very large and shell-like, hence the comparison to a crab.  I had never seen anything like it, neither have I since.
I just hope the poem does justice to the crusty old beast.  Every day, as I crossed the threshold of my house I felt like an extra in arachnophobia.  I certainly wouldn't have been the star.  That honour belonged to my friend, or should that be foe?  To be fair to the fella, he never moved very much, just disappeared one day, as Spiders do.  Perhaps he ran back to the beach!
So, I never witnessed 'the descent' as detailed in my poem.  That part all took place in my imagination.  Due to the sheer size of the spider, I felt drawing a parallel with a bomb was not exaggerated.  And if the spider ever had fallen, yes, I would have been running for my life!
I'm loving Halloween this year though.  My husband has got his 3D printer up and running just in time so I've been requesting Halloween themed prints.  I now own two Ghost bookmarks.  The Ghost is one from the 80s computer game: Pacman.  I used to love those old arcade games.  My brother had all of them and Pacman was my favourite.  I used to notch up quite a high score too.  I also have a beautiful spider web print which I'm hoping to put on a chain and wear this evening.  I'm not entirely sure what the plan is.  I think we've been invited to a bonfire.  I'll have to layer up so not sure anyone will get to admire the spider web!
It's also my birthday this Friday so I may be presented with more prints, (hint, hint, Hubs)!  Although, a shower of diamonds will be just as welcome 😉 .  In the meantime, Happy Halloween!
The poem above has been selected from the collection Landscapes and Hearts by K. S. Moore.
Spider Nut, a Poem for Halloween.