I'm still buzzing from all the excitement of Waterford Writers' Weekend.  For those that didn't make it to my reading, here is a video clip from the day.  It features a poem called 'Waterford Waits', written in 2007 and inspired by Waterford Hurlers.  The poem focuses in on field hero and hurler of the year: Dan Shanahan.  His power, presence and fighting spirit drive the poem to a climax where anticipation becomes almost too much.
I hope I've managed to capture even a hint of the thrill and adrenaline of those days when the Waterford team made us all believe in magic.  The audience seemed to respond particularly well to this poem.  Arts Officer: Conor Nolan even tweeted the quote: 'strangers embrace, become blue and white neighbours.'
Taking part in the festival seems to have given me a creative boost.  I've written four poems over the last few days.  One came to me in the middle of the night, which didn't make for a great night's sleep, but I will find forgiveness if it responds to a little editing!  Two of the poems are about animals and two are about writing and reading poetry, (yes, I know, poetry about poetry).  It's perfectly acceptable though.  Think Dylan Thomas' 'How Shall my Animal'.  If the great bard can do it, so can I!  Anyway, it's therapeutic, and goes some way towards defeating that daily struggle with pen and mind.
Looking towards Easter, I'm glad to be in the creative zone, but also reflecting on poetry I've written previously.  Religion doesn't tend to be a subject I write about very often.  However, I was a regular churchgoer pre-teens and remember writing a poem about Jesus on the cross, which I read out as part of a special service.  This is not the same poem, but it was inspired by that early effort.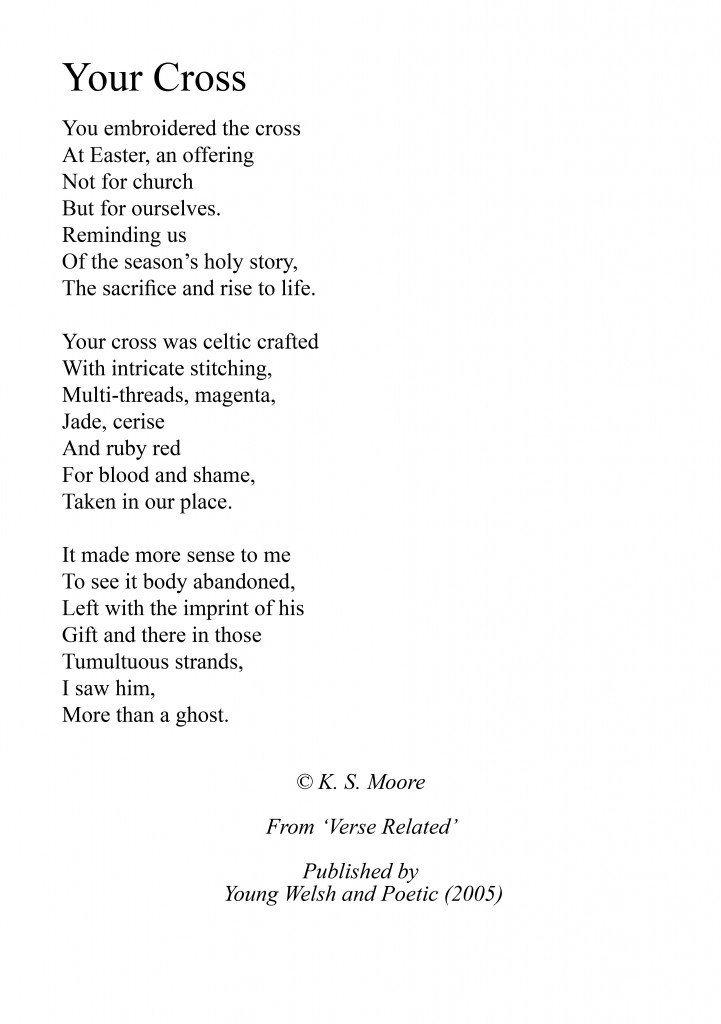 Happy Easter everyone and remember, chocolate is good for the soul!
Waterford Waits, Poetry Reading with K. S. Moore.