A Writing Round-up seems timely at a stage where I'm halfway through the year, have been working very hard and have a few successes to report!  So, here goes:
Following my reading at Waterford Writers' Weekend back in March, I have embarked on what can only be called a creative writing spree.  Poetry has come flooding in, as have a few short stories, but my greatest discovery in the last couple of months has to be Flash Fiction.  I love writing it and throughly enjoyed National Flash Fiction Day on June 22nd.  A story of mine, called 'Bones' was published in the FlashFlood Journal and I also entered a Blog Carnival and competiton called 'Flash Mob 2013'.
I just thought it would be fun to take part in an initiative that brought writers and stories from all over the world together.  I never expected to make it to the Top 15!  If you haven't read my story 'Old and Free' yet, you can check it out here.  It's written in quite a poetic style and the central character has aged in an eccentric and lonely way which has also given her a certain amount of freedom.
To return to poetry – I recently found out that a poem I am very proud of, called 'Back Home (On Swirl)' has been accepted for publication in Swansea Literary Magazine: The Seventh Quarry.  It seems fitting that it will appear there, as it is about the seaside village of Mumbles, in Swansea.  Mumbles is just a couple of miles away from my childhood home and my parents would often bring me there to browse around the characterful shops, get chips and breathe in the sea air.   I wrote the poem on a day when I was so homesick, I had a pain in my chest (yes, that can happen)!  I'm just glad something positive has come about because of those strong feelings!
I'm looking forward to a trip home in November and only found out yesterday that my parents have booked a holiday over here and will arrive in a week's time!  Still in shock ( :O ), but very happy!  A huge summer cleaning session is now scheduled for the end of this week, although I seem to have developed a cold so hope I will be fit for battle with hoover and duster!
Meanwhile, I just have to share a few words on Despicable Me 2 and those crazy yellow guys – the Minions!  Hubs and I sneaked into a screening last weekend, only half wishing we had a child to bring with us.  A child might have made it more acceptable for us to be there, but they surely would have distracted us from the full impact of this laugh-along sequel.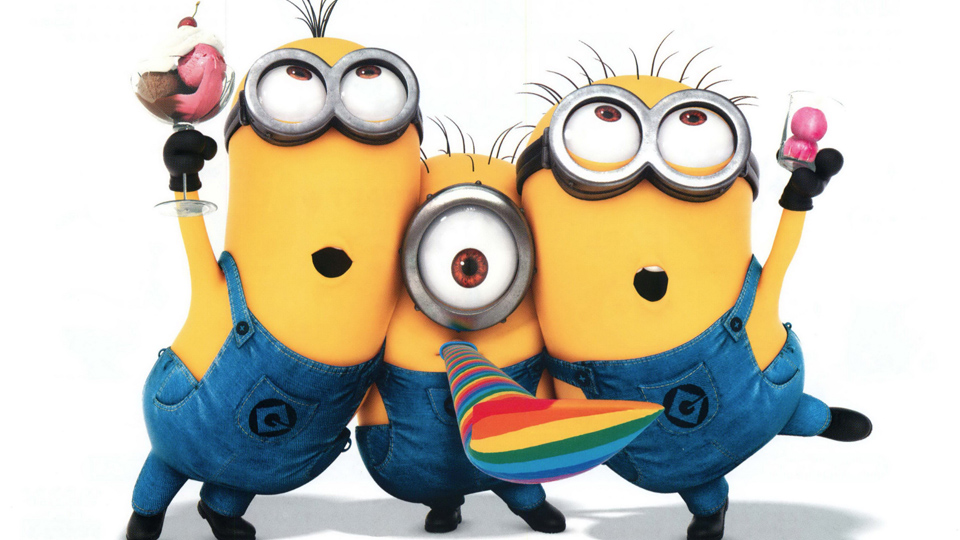 I love the character of Gru – his grim demeanour, which barely hides his vulnerability and good heart.  His family are sweet and best of all, he has minions!  The very yellowness of them is enough to lighten your mood, apart from their innocence, playfulness and sheer joy.  My favourite moment in the first film is when the minions line up for a kiss goodnight.  In the second, I love the party scene and the fact that Gru's righthand minions: Dave and Kevin are given more of a role and further opportunities to be silly but helpful.
I've since heard rumours that the minions are going to be given their own film!  I'm not sure how this will work as they mainly speak nonsense, but I suppose 'WALL-E' works despite the lack of dialogue, so I would certainly give it a look.  The fact that I am comfortably able to discuss films with my three year old nephew doesn't bother me at all!