Are you ready for part 2 of my West Cork adventure?  Last week, I shared my Schull and Harvest Moon Festival experience. This week, I'm reflecting on time spent at Mizen Head, Barley Cove and Glengariff.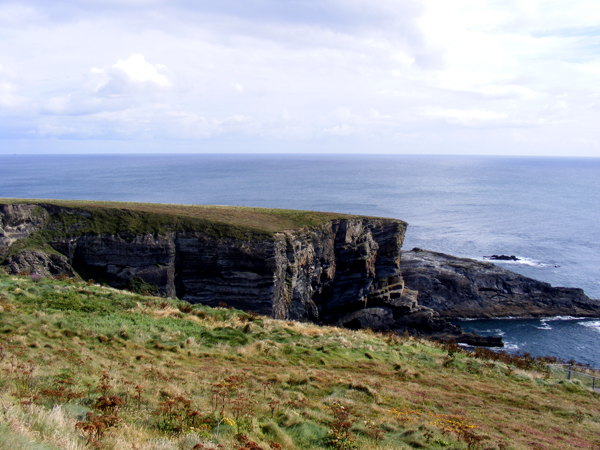 Mizen Head is, of course, Ireland's most southwesterly point.  It is known for its majestic cliffs, wildflowers, whales and dolphins.  Unfortunately, a stubborn drizzle persisted from the moment we arrived and despite sudden interludes of sunshine, it never fully cleared.  So, we settled down to a meal of seafood chowder for hubs and vegetable soup for me.  It was all very comforting and I must admit that the outdoor tour did not appeal!
Instead, we browsed around the shop and nearly bought lots of things . . . I particularly admired the coloured glass sailing boats, which had a certain style, but then I remembered my house is full of bits and bobs – all requiring dusting! So, I resisted and just bought a couple of postcards to remind me of the visit.
Our next stop was Barley Cove and it turned out to be one of the highlights of the holiday!  As soon as we got there the sun switched on. It felt like we were in a foreign country.  The sand was bleached to within a shade of heaven and the sea glinted, pale blue and pure.  We let the water cool our toes as the surf played up our legs and drenched our turn-ups.  It felt right to let our fingers skim the tops of the waves, as our faces caught the sun and our eyes met in shared experience.
It was hard to leave this world where the rain couldn't find us, but we had a B&B to track down and the time was drifting on . . . So, it was back to the car and the road, and eventually we made it to Glengariff, where we would stay for the night.
The morning brought further drizzle, but after a hearty breakfast we were ready for some serious pottering!  We found an arts and craft shop and happily admired crashing waves captured in oil, and earthy landscapes; warm, with hints of coral and sandstone.  We also looked at some beautiful handknitted items, including a range of hats.  Hats and jumpers seem to be a common theme in Glengariff.  I suppose it helps to combat the chill!
We headed on to the local Internet cafe, where they sold ice cream milkshakes. I had a butterscotch one which was smooth and sweet. Hubs had chocolate.  I didn't hear much about how it tasted, but it didn't last very long.  The staff were friendly and we started to feel a bit more at home.  Afterwards, we wandered down to a large craft shop selling sheepskin rugs.  A brown and white or piebald rug caught our attention.  I used to have a sheepskin rug by my bed as a child and remember my feet sinking into it. Seeing the rug on holiday and my childhood memories combined to inspire a new poem: 'The Piebald Rug'.  It begins:
'Burgundy earth
patches on cream,
soft as calla lily . . .'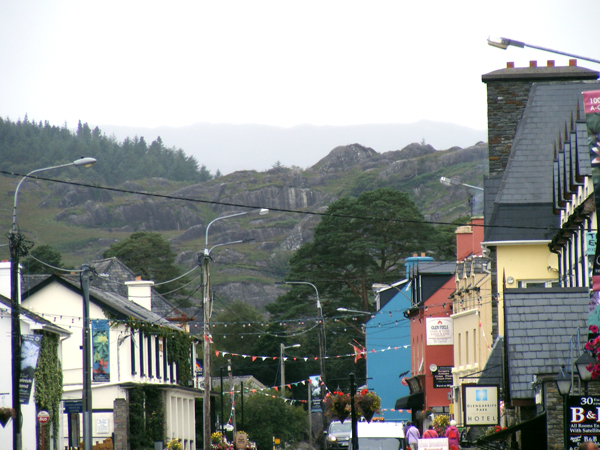 After all the holiday fun, I was expecting my life to dull down when I got back.  But I've actually had two pieces of good news.  My flash fiction piece 'Words' has been shortlisted for the latest 99 Fiction competition.  You can read it here.  And this very blog has made the Blog Awards Ireland shortlist!  You can find me in the Arts and Culture Category.  I'm thrilled to be up there with big names such as Women Rule Writer and Writing.ie.  Thank you to everyone who reads the blog.  It's like an anchor for me and my writing. I can't imagine living without it these days!
Video: George Moore.