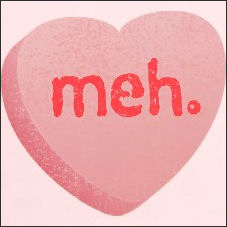 Apparently the Valentines gift you buy for your other half depends on the stage your relationship is at.  If you've just met gifts may be completely inappropriate.  If you've been together a few months a card and a small gift are recommended.  Beyond this stage I'm sorry to say I do not know the protocol because I stopped reading the article. You may read the rest at http://bit.ly/AwxVno.  It did not apply to me and my husband because we are at a stage all of our own.  It's called the 'Oh no, it's Valentines Day again, do we really have to do something?' stage and it takes years plus a wedding to get here.
Surprisingly, it's not that some kind of rigor has set into our relationship, rather that we have tried to celebrate the day many times before and it's never really worked out. We've tried the 'dinner' option and found it to be slushy, tasteless and expensive.  We've tried the 'film' option but for some reason the only films showing at the cinema on Valentines Day are kids' films.  Some years ago we watched 'Charlotte's Web', all very cutesy and great fun but it hardly set the mood . . . This year's offering is 'The Muppets', date with Kermit / Miss Piggy anyone? I thought not.
We've opted for Chinese or Indian take away followed by a film at home.  This has tended to work best apart from the nagging feeling that we could have made more of an effort. One idea we've never tried is the M&S dinner for two even though it always looks so good on the tv.  To me it's a cop out.  If you're going to eat a visually impressive three course meal then at least one of you should have prepared it from scratch.  And yes, we attempted a team Valentines effort back in the early days when we had just moved in together.  I seem to remember it took the kitchen a week to recover.
At least all this talk of romance has reminded me of some heartfelt poems I wrote a few years ago.  Looking back at my first poetry collection: 'Verse Related' (2005) I rediscovered a poem called 'Paper Heart'.  I'd really like to share it with you so I'm going to put it up as an extra blogpost this Thursday.  If it proves popular I'll make it a regular thing and post extracts from stories / novels I've written as well as poems.
So let your heart be light today even if you haven't received a card or gift.  Remember surface romance is nothing compared to deep and lasting love.  That's what I tell myself anyway 😉
Photo sourced from Operation T-Shirt http://bit.ly/wQflhF