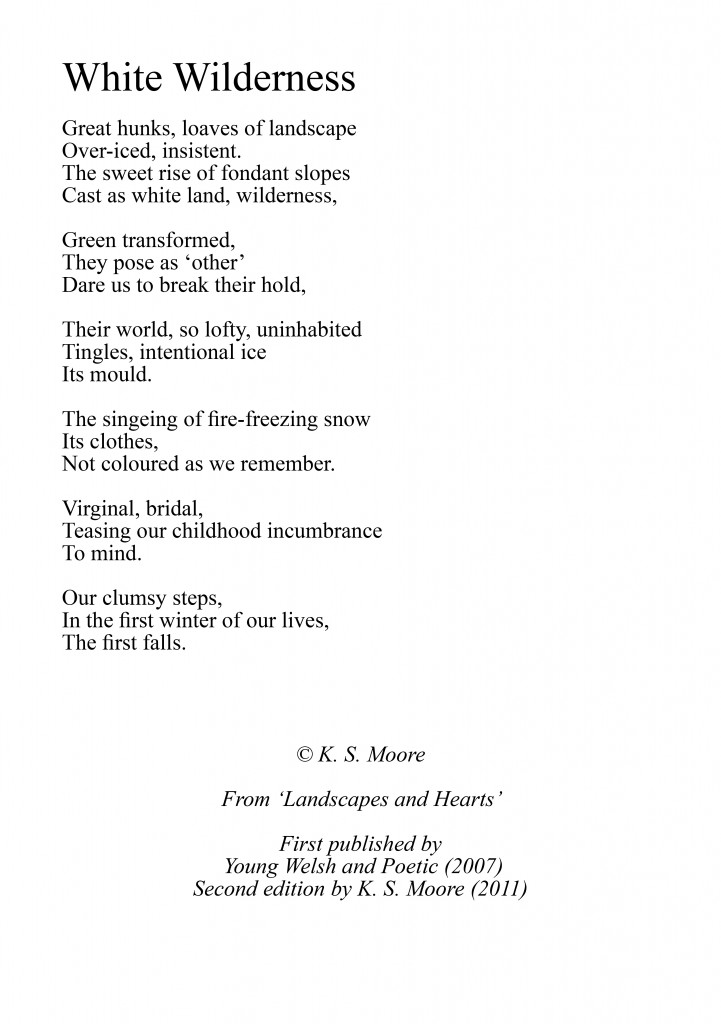 I thought I'd share some poetry with you as Christmas rapidly approaches!  This poem was inspired by a snowy Brecon Beacons, witnessed some years back.  There's a magnificence and power about the Beacons which is only emphasised by a coating of snow.  As I wrote the first verse, I remember thinking of the German Christmas cake 'Stollen'.  I was striving to capture the bewitching transformation from the natural, earthy colours of every day to the otherworldly white of December.
Snow is so awe inspiring when we are children.  I wanted to reference that magic and connect it to our lack of experience.  Winter can be a mystifying and alarming time, particularly when you take a run in the snow and fall flat on your face, (yes, I've been there!)
'White Wilderness' is part of a poetry collection called 'Landscapes and Hearts' which I first published in 2007.  The collection depicts many great scenes from both Wales and Ireland with an emphasis on the majestic presence of mountains, the textures of the earth and the framing of characterful skies and whispering trees.  It speaks of fears, growing up and gaining knowledge .  Meanwhile, the second section of the book 'Hearts' processes emotional discoveries, examines relationships with family and friends, and studys aspects of character as well as the deception of outer appearance. When the surface layers are lifted a few secret truths emerge . . .
'White Wilderness' appears in the collection: 'Landscapes and Hearts', available to buy from the store.
K. S. Moore has also published an ebook collection of short stories called 'Heart Strings', including Festive Romantic Comedy: 'Rewriting Christmas': Check it out here.
Poetry for Christmas: White Wilderness.