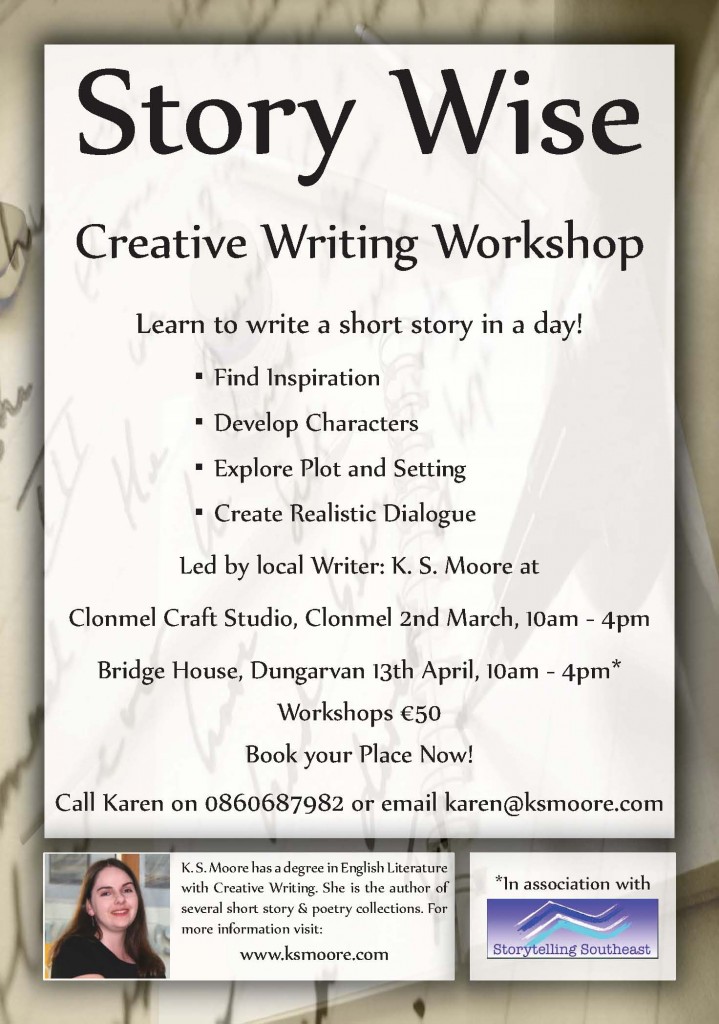 The Story Wise Creative Writing Workshop is back!  This time, taking place in Clonmel and Dungarvan, offering people the chance to learn to write a short story in a day!  I taught the previous workshop (in Carrick-on-Suir) over 3 sessions, thinking that people would appreciate the time between classes to work on their stories.  However, I noticed that the majority of the story writing took place in class where support and encouragement facilitated creative expression.  So, the new workshops will take place from 10am until 4pm with a half hour break for lunch.  Students are welcome to bring sandwiches or may prefer to pick something up in town.  Tea, coffee and biscuits will be provided!
The workshops are suitable for beginners or people with some writing experience.  We'll start with some simple exercises to get pens moving and students will be encouraged to explore their own ideas without restrictions. An exploration of place and the senses will follow, leading to a discussion on the importance of setting. Progressing at a comfortable pace, the group will look at character development. A story can often grow from a character. Make them strong enough and you will want to write about them.
We will go on to look at story planning.  A good plan will give you a reference for your story and keep you from getting lost!  Creating realistic dialogue will also be an intensive study area. Every character has a unique voice and the secrets to making this obvious to the reader will be revealed.  By the end of the day, each student will have a short story completed.
If you are interested in attending the course please send an email to karen@ksmoore.com, indicating your preferred venue and I can secure a place for you.  Booking is essential due to  limited places so don't be shy! Get in touch.